Dr. Parameshachari B D
Based in Karnataka, India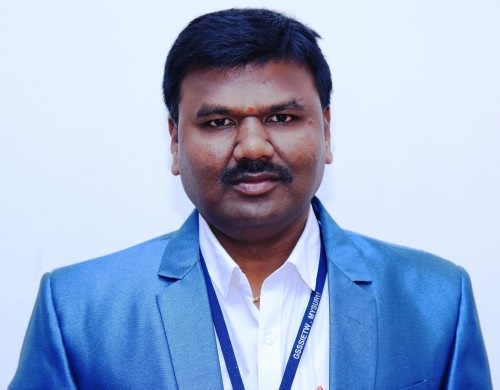 Bio:
Dr. Parameshachari B D, currently working as a Professor, Department of Electronics and Communication Engineering at Nitte Meenakshi Institute of Technology, Bengaluru. He has completed his B.E, degree in ECE and M.Tech in Digital communication from VTU,Belagavi and Completed Ph.D in Electronics from Jain University, Bangalore. He has a total 19+ years of teaching and research experience and he has worked at various positions and places like Karnataka, Kerala and Mauritius. He is recognized as Research Guide at VTU,Belagavi, awarded one PhD and currently, 5 Research Scholars were pursuing Ph.D. Degree under his supervision.
He is currently Serving has a Distinguished Speaker by ACM ACM and IEEE Virtual Speaker by Virtual Bureau Speaker Program. He is also Serving as a Chair,IEEE Mysore Subsection, Founding Chair, IEEE Bangalore Section Chapter IT12, 2022 Treasurer & 2021 Secretary for Bangalore Section Chapter CAS04. Through his personal contacts, Successful in motivating and encouraging the faculty members to start the 14 IEEE SBs and 25 IEEE SBCs across Karnataka. He is the recipient of IEEE Bangalore Section Outstanding Volunteer Award, IEEE Bangalore Section Best Branch Counsellor Award and Outstanding Reviewer-Elsevier Signal Processing. He has served in various expert committees for VTU, Belagavi.
Dr. Parameshachari has published over 125+ articles in SCI, SCOPUS and other indexed journals and also in conferences. He is the Associate Editor for IJRES, IJBDAH,IJHSTM-IGI Global, Academic Editor for Hindawai- International Journal of Clinical Practice, Wireless Communication and Mobile Computing-Hindawai. He has served as the Lead Guest Editor for Taylor & Francis, SN Applied Science - Springer, Multimedia Tools and Applications - Springer, Pattern Recognition Letters - Elsevier, Physical Communication (Elsevier-Science Direct), Remote Sensing (MDPI), Book Editor - Apple Academic Press. He has been serving as reviewer for several journals like IEEE Transactions, IEEE Access, Springer, Elsevier, Wiley, Taylor & Francis, IGI-Global etc.
He has also served as Publication Chair for 4 IEEE Conferences ICEECCOT in association with IEEE Bangalore Section, General Chair for IEEE Mysore Sub Section Flagship International Conference and IEEE North Karnataka Subsection Flagship International Conference. He has also served as Regional Chair for 10th International Conference ICTC-2019 Jeju Island, Korea and Invited Speaker for 4th International Conference on Multimedia and Image Processing held at the University of Malaya, Malaysia. Keynote Speaker for International Conference ICECIT-2020 held in Shenzhen, China. His interview with All India Radio, Mysuru on "Opportunities in the field of Telecommunication Engineering" in Yuvavani Programme has benefited the students abundantly.
His research interests include Image Processing, Computer Vision, Network Security, Language Processing, Data Science and IoT. He is the Senior Member of IEEE, Fellow of IETE and Fellow of ISAC. Member of International Professional Societies such as IACSIT, IAENG, SAI, CSTA, IAOE. National Professional bodies like ISTE, ISOC and IEI.
Please visit for more details:
https://sites.google.com/view/parameshacharibd
Available Lectures
To request a single lecture/event, click on the desired lecture and complete the Request Lecture Form.
To request a tour with this speaker, please complete this online form.
If you are not requesting a tour, click on the desired lecture and complete the Request this Lecture form.
All requests will be sent to ACM headquarters for review.