Dr. Steve D Benford
Based in Nottingham, United Kingdom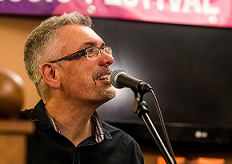 Bio:
Steve Benford is Professor of Collaborative Computing at the Mixed Reality Laboratory at the University of Nottingham. ÊHis research interests span creative and cultural applications of computing, from interactive art to mainstream entertainment, with a particular focus on new interaction techniques. He has established an international reputation for working with artists to create, tour and study interactive performances that have garnered international acclaim, led to award winning papers and also fed into mainstream entertainment through collaborations with major companies from Sony to the BBC. Steves research has fuelled the emergence of new cultural forms such as pervasive games and mixed reality performance, while also delivering foundational principles for user experience design, most notably his work on trajectories, uncomfortable interactions, spectator interfaces and most recently the hybrid craft of making of physical-digital artifacts. His research addresses multiple ACM communities. While he has published over thirty full technical papers at ACM CHI and a further eight in ACM Transactions on CHI, he has also published full papers at ACM SIGGRAPH, Multimedia, CSCW, Ubicomp and DIS as well as papers in leading Distributed Computing venues. He is therefore ideally positioned to introduce highly creative and unusual applications to a broad Computer Science audience and then use them to illustrate unusual approaches to interaction and to challenge current thinking on the subject from a wide range of perspectives. The wider appeal of Steve's research to the general computing community is further demonstrated by him having so published four articles in Communications of the ACM, including the cover article on Uncomfortable User Experience in September 2011. Steve's work has received best paper awards at the ACM's annual Computer-Human Interaction (CHI) conference in 2005, 2009, 2011 and 2012 (with honorable mentions in 2006 and 2013) while his collaborations with artists have won the 2003 Prix Ars Elctronica for Interactive Art, the 2007 Nokia Mindtrek award for Innovative Applications of Ubiquitous Computing, and received four BAFTA nominations. Steve currently holds a prestigious EPSRC Dream Fellowship and is the Director of the EPSRC-funded Horizon Doctoral Training Centre in Ubiquitous Computing. He was a Visiting Researcher at Microsoft Research Cambridge in 2013 and was the first Visiting Professor at the BBC in 2012. He was elected to the CHI Academy in 2012. His book Performing Mixed Reality was published by MIT Press in 2011. Steve has previously been invited to deliver keynote addresses at international conferences in a variety of fields including Creativity & Cognition (C&C), Artificial Intelligence in Education (AIED), Digital Resources in the Humanities and Arts (DRHA), Computer Aided Learning (CAL), Collaborative Technologies and Systems (CTS), International Society for Presence Research Conference (ISPR), and the International Symposium on Distributed Simulation and Real Time Applications (DS-RT).
Available Lectures
To request a single lecture/event, click on the desired lecture and complete the Request Lecture Form.
Trajectories Through The User Experience

The idea of designing the 'user journey' is familiar to User Experience designers. However, the emergence of mobile interaction, followed by augmented reality and now the...

Uncomfortable User Experience

This is a provocative lecture that confronts our current thinking about how we design interactions with computers and instead makes a case for the deliberate engineering of discomfort as...

To request a tour with this speaker, please complete this online form.

If you are not requesting a tour, click on the desired lecture and complete the Request this Lecture form.

All requests will be sent to ACM headquarters for review.