Dr. Regina Bernhaupt
Based in France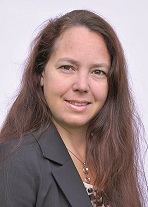 Bio:
Regina Bernhaupt is associated researcher at IRIT, France and acts as director of user experience research at ruwido. Main goal of her research work is to understand the eco-system of (TV) entertainment and games and how to design and develop new forms of interaction enabling an enhanced overall user experience. Her work focuses on how to evaluate usability and user experience in various contexts especially for entertainment oriented products and services. She has recently edited a book on Game User Experience Evaluation and is author of several international publications.
Regina is currently acting as member of the SIGCHI Executive Committee as VP for Membership and Communication. She has been active member of the Conference Management Committee of SIGCHI. In her role as Chair of the Games and Entertainment Community she helped establish the CHI Play conference and as chair for CHI Courses she implemented a three years experiment to improve coverage of topics for CHI courses offered at the conference and for SIGCHI sponsored conferences.
In her spare time Regina loves to take care of her citron and orange trees in her garden in the south of France.
Available Lectures
To request a single lecture/event, click on the desired lecture and complete the Request Lecture Form.