Dr. Indrajit Bhattacharya
Based in Kolkata, India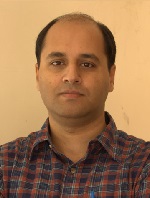 Bio:
Indrajit Bhattacharya has been a Senior Research Scientist in the Business Analytics and Mathematical Sciences department at IBM Research India since 2012. He completed his PhD in Computer Science and Engineering from the University of Maryland, College Park in December 2006, and his BTech in Computer Science from the Indian Institute of Technology, Kharagpur in 1999. He was a Researcher in the Knowledge Management department in IBM Research India between 2007 and 2010. Between 2010 and 2012, he was an Assistant Professor at the Department of Computer Science and Automation in the Indian Institute of Science, Bangalore.
His research interests are in Machine Learning in general, and more specifically in parametric and nonparametric Bayesian modeling and Probabilistic Graphical Models, and their wide-ranging applications, including entity resolution and deduplication in databases, word-sense disambiguation, text mining, natural language processing, sentiment analysis and opinion mining, social interaction analysis, system log analysis, service mining from legacy software, and more recently, learning knowledge graphs from semi-structured data.
His research has resulted in multiple invited book chapters and two Best Paper awards, in addition to several publications in international journals and conferences. He is actively involved in professional service and has regularly served as Program Committee Member and Reviewer for ACM, IEEE and other international conferences and journals since 2006. He served as the Program Committee Chair for the Second ACM IKDD Conference on Data Science in 2015. He has been a Professional Member of the ACM since 2014.
Available Lectures
To request a single lecture/event, click on the desired lecture and complete the Request Lecture Form.
To request a tour with this speaker, please complete this online form.
If you are not requesting a tour, click on the desired lecture and complete the Request this Lecture form.
All requests will be sent to ACM headquarters for review.