Dr. Amlan Chakrabarti
Based in Kolkata, India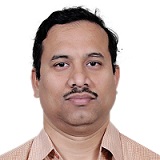 Bio:
Amlan Chakrabarti is a Full Professor of Information Technology in the A.K.Choudhury School of Information Technology at the University of Calcutta. He is also the Dean, Faculty of Engineering and Technology of his university. He is an M.Tech. from the Dept. of Radiophysics and Electronics, University of Calcutta and did his Doctoral research at the Indian Statistical Institute, Kolkata. He was a Post-Doctoral fellow at the School of Engineering, Princeton University, USA during 2011-2012. He is the recipient of DST BOYSCAST fellowship award in Engineering Science in 2011, Indian National Science Academy (INSA) Visiting Faculty Fellowship in 2014, JSPS Invitation Research Award in 2016 and Erasmus Mundus Leaders Award from EU in 2017.
He has been associated with reputed international and national institutes of repute as a Visiting Professor to name a few, University of SUNNY Buffalo USA, GSI Helmholtz Research Laboratory Germany, University of Bremen Germany, CERN Geneva, Kyushu Institute of Technology Japan etc.
He is one of the Principal Investigators of the Center of Excellence in Systems Biology and Biomedical Engineering at the University of Calcutta. He has received multiple project grants in the areas of Embedded System Design,VLSI Design, Quantum Computing and Computer Vision from various national and international agencies. He has published around 120 research papers in referred journals and conferences. He is a Sr. Member of IEEE, Secretary of IEEE CEDA India Chapter and Member of ACM. His areas of research interest are Quantum Computing, Embedded Systems Design, VLSI Design,Computer Vision and Analytics.
Available Lectures
To request a single lecture/event, click on the desired lecture and complete the Request Lecture Form.
Computer Aided Design for Quantum Computing Circuits

In order to realize a quantum algorithm in quantum machines, at first we need to design its equivalent quantum circuit. The initial circuit will be decomposed into fundamental quantum...

Medical Image Processing: Analysis and Visualization

Imaging has become an essential component in many fields of bio-medical research and clinical practice. Radiologists identify and quantify tumors from MRI and CT scans, and neuroscientists...

Software-Hardware Co-design for New Generation IoTs

Hardware-software codesign is a recent technological trend among the system designers and design engineers to facilitate the design of small embedded systems especially in the internet of...

Task Scheduling and Hardware Design in Reconfigurable Space

Reconfigurable systems are increasingly being employed in a large class of today's heterogeneous real-time embedded systems which often demand satisfaction of stringent timeliness...

To request a tour with this speaker, please complete this online form.

If you are not requesting a tour, click on the desired lecture and complete the Request this Lecture form.

All requests will be sent to ACM headquarters for review.