Dr. Alain Chesnais
Based in Toronto, ON, Canada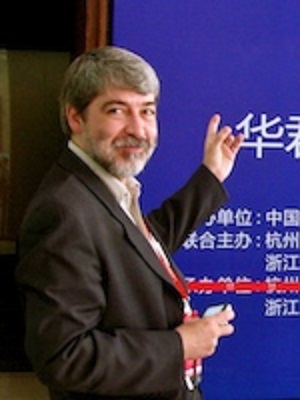 Bio:
Alain Chesnais has worked in computer science since the early 80's. His research has focused mostly on computer graphics and along the way he led the team at Alias/wavefront that received an Academy award in 2003 for the development of the Maya 3D system. He currently is chief scientist at TrendSpottr where he works on real time predictive analytics for social media.
Alain graduated from l'Ecole Normale Superieure de Cachan in 1981 and received a Diplome d'Etudes Approfondies from Universite de Paris XI. He served as ACM President from 2010-2012 and ACM SIGGRAPH President from 2002-2005.
ACM and SIGGRAPH Activities
since 2014 vice chair ACM SIGGRAPH Chapters Committee
since 2013 ACM Practioners Boards
2012-2014 ACM Past President
2011-2014 ACM SIGGRAPH Nominating Comittee
2010-2012 ACM President
2008-2010 ACM vice president
2005-2011 ACM SIGGRAPH past president
2006-2008 ACM secretary/treasurer
2005-2006 SIG representative to Council
2002-2005 ACM SIGGRAPH president
2002-2004 SGB past chair
2001 SIGGRAPH Conference - International Resources Chair
2000-2002 SGB chair
1999-2000 SIG Governing Board (SGB) Vice Chair for Operations
1999 ACM EC Nominating Committee
1998 ACM Executive Search Committee
1998 SIGGRAPH Nominating Committee
1997 SIGGRAPH Conference - International Chair
1995-1999 ACM SIGGRAPH Vice Chair
1993-1995 Member at Large ACM SIGGRAPH Chapters Committee
1993-1995 ACM Director of Professional Chapters
1993-1995 ACM Local Activities Board/SIG Board Liaison
1992 Organized the local groups' booth for the SIGGRAPH 92 conference
1991-1995 Chair of the Paris SIGGRAPH chapter
Available Lectures
To request a single lecture/event, click on the desired lecture and complete the Request Lecture Form.
3D Content For The Web

One of the most exciting developments in browser technology is the ability to present and interact with 3D assets in a web page. This talk will focus on the introduction of WebGL since 2011...

Managing Your ACM Chapter

Alain Chesnais will talk about his experience working in chapter leadership for the past 25 years. He started out his ACM experience volunteering to stuff envelopes for the Paris chapter in...

Real Time Predictive Analytics for Social Media

Social media has grown dramatically over the last decade, both in terms of adoption and in terms of volume of information shared. Such growth proses huge challenges for people looking to...

To request a tour with this speaker, please complete this online form.

If you are not requesting a tour, click on the desired lecture and complete the Request this Lecture form.

All requests will be sent to ACM headquarters for review.