Dr. Gargi Banerjee Dasgupta
Based in Bangalore, India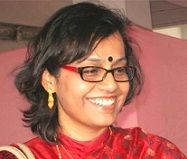 Bio:
Gargi B. Dasgupta is a senior research manager at IBM Research, India. In her current role, Gargi is responsible for leading and contributing to innovations in the area of IT operational analytics - with an emphasis on cognitive solutions for optimization of IT infrastructure. Her work is aligned to IBM's services business for ensuring high quality of work and productivity while being operationally efficient, as well as with IBM Middleware and Cloud. Her work has led to numerous patent disclosures and publications in premier journals and conferences, while influencing key IBM products and services. Gargi joined IBM in August 2004 after receiving her Ph.D. in Computer Science from the University of Maryland Baltimore County. Her thesis addressed efficient resource management techniques in IP networks. Her broader technical interests cover distributed systems, and Quality-of-Service aspects in large-scale distributed systems - with specific contributions to power and energy efficient data center management and cloud computing infrastructures. As a researcher, Gargi continues to collaborate with leading academic institutions as well as the IBM worldwide labs. She is also serving as the IRL co-chair for Service Science and is the Diversity leader at IBM Research India dedicated to promoting women in STEM.

Summary
• Significant contributions in the areas of service delivery analytics and and datacenter infrastructure optimization.
• Professionally active in academic collaborations, advising graduate students, and serving on organizing/program committees of internationally reputed conferences.
• 50+ quality publications in top conferences and journals and patents filed/granted with US Patent Office.
• Technology researcher, team lead and mentor.

Education
• Ph.D., May, 2003, Computer Science, University of Maryland Baltimore County (UMBC), USA.
• M.S., May, 1999, Computer Science, University of Maryland Baltimore County (UMBC), USA.
• B. Tech., July, 1997, Computer Science, Jadavpur University, India.

Honors and Awards
• 4 IBM Outstanding Technical Achievement Awards (2015, 2013, 2011)
• 4 IBM Research Division Awards (2012,2013,2014)
• IBM Seventh Plateau Achievement Award, multiple patent filing/granted awards, 2004-present
• Informs Innovation in Analytics Award (Second Place), 2012
• Best Paper Candidate (top 3) paper at ICSOC 2014.

Experience
• Senior Manager at IBM Research, Bangalore, India, 2016 -current
• Research Manager at IBM Research, Bangalore, India, 2013-1016
• Research Member at IBM Research, Bangalore, India; 2004-2013
• Senior Software Engineer at Hughes Network Systems, New Delhi, India;2003-2004
• Senior Software Developer at Marconi Communications, Virginia, US; 2002-2003

ACM Affiliations: ACM Member. Presented at multiple ACM sponsored conferences and talks. Published at multiple ACM journals.
Available Lectures
To request a single lecture/event, click on the desired lecture and complete the Request Lecture Form.
Cognitive Technology Support

Scientists are working on using cognitive technologies for creating an improved technical support experience. Technical support is a hard task and companies offering support often face...

Detect Needle in a Haystack: Advanced Anomaly Detection mechanisms from execution logs

Troubleshooting complex systems in IT data centers is a very complex problem. We focus on the problem of detecting anomalous run-time behavior of distributed applications from their...

To request a tour with this speaker, please complete this online form.

If you are not requesting a tour, click on the desired lecture and complete the Request this Lecture form.

All requests will be sent to ACM headquarters for review.