Dr. Tassos Dimitriou
Based in Athens, Greece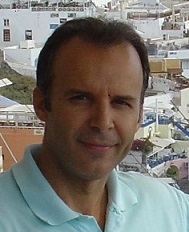 Bio:
Dr. Tassos Dimitriou is affiliated with the Department of Computer Engineering at Kuwait University (KU). Dr. Dimitriou is interested in various aspects of Theoretical Computer Science like combinatorial optimization, design and analysis of heuristics/probabilistic algorithms for difficult to solve problems, sensor, RFID and smart grid networks, computer and network security (especially why the latter is so difficult to achieve in real life...).
Prior to joining KU, Dr. Dimitriou was an Associate professor at Athens Information Technology - Greece and adjunct faculty of Information Networking Institute at Carnegie Mellon University, USA and Aalborg University, Denmark. At AIT he was leading the Algorithms and Security group where the primary objective was to bring together expertise in education, research and practice in the field of information security and algorithms, conducting research in areas spanning from the theoretical foundations of cryptography to the design and implementation of leading edge efficient and secure communication protocols. His research in the above fields has resulted in numerous publications, some of which received distinction, and numerous invitations for talks in prestigious conferences like the International World Wide Web conference and InfoCom. Furthermore, apart from his regular teaching duties, he gives regular short and professional courses on topics related to computer and network security.
Dr. Dimitriou is a senior member of IEEE, ACM and a Fulbright fellow. More information about him can be found in the web page http://tassosdimitriou.com/
Available Lectures
To request a single lecture/event, click on the desired lecture and complete the Request Lecture Form.