Dr. Jean-Daniel Fekete
Based in Orsay Cedex, France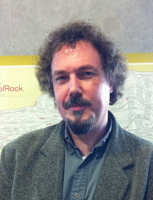 Bio:
Jean-Daniel Fekete is Senior Research Scientist (DR1, equivalent to Full Professor) at INRIA, France. He received his PhD in Computer Science in 1996 from Université Paris-Sud. From 1997 to 2001, he joined the Graphic Design group at the Ecole des Mines de Nantes that he led from 2000 to 2001. He was then invited to join the Human-Computer Interaction Laboratory at the University of Maryland in the USA for one year.
He was recruited by INRIA in 2002 as a confirmed researcher and became Senior Research Scientist in 2006. He is the Scientific Leader of the INRIA Project Team AVIZ that he founded in 2007.
His main Research areas are Visual Analytics, Information Visualization and Human Computer Interaction.
He was the General Chair of the IEEE VIS Conference in 2014, the first time it was held outside of the USA in Paris. He also is Associate Editor of the IEEE Transactions on Visualization and Computer Graphics (TVCG), Member of the IEEE VIS Executive Committee, IEEE Information Visualization Conference Steering Committee and of the EG EuroVis Steering Committee. He was member of the ACM SIGCHI Conference Management Committee, in charge of Data Analysis in 2010-2011.
Jean-Daniel Fekete was the President of the French-Speaking HCI Association (AFIHM) until 2013; he was Conference Chair of the IEEE InfoVis Conference in 2011, Paper Co-Chair of the IEEE Pacific Visualization conference in 2011.
Jean-Daniel Fekete is a member of the Association for Computer Machinery (ACM) and Senior Member of the IEEE. His main publication venues are ACM SIGCHI and IEEE VIS.
Selected Publications:
· Benjamin Bach, Emmanuel Pietriga, Jean-Daniel Fekete. Visualizing Dynamic Networks with Matrix
Cubes. Proceedings of the 2014 Annual Conference on Human Factors in Computing Systems (CHI
2014), Apr 2014, Toronto, Canada. ACM, pp.877-886,
· Jeremy Boy, Ronald A. Rensink, Enrico Bertini, Jean-Daniel Fekete. A Principled Way of Assessing Visualization Literacy. IEEE Transactions on Visualization and Computer Graphics, Institute of Electrical and Electronics Engineers (IEEE), 2014,
· B. Alper, B. Bach, N. Henry Riche, T. Isenberg and J-D. Fekete. Weighted Graph Comparison Techniques for Brain Connectivity Analysis. In S. Brewster, S. Bødker, P. Baudisch and M. Beaudouin- Lafon, editors, Proceedings of the 2013 Annual Conference on Human Factors in Computing Systems (CHI 2013, April 27-May 2, 2013, Paris, France), New York, États-Unis, 2013. ACM. (Best Paper Award)
· L. Micallef, P. Dragicevic and J-D. Fekete. Assessing the Effect of Visualizations on Bayesian Reasoning Through Crowdsourcing. IEEE Transactions on Visualization and Computer Graphics, October 2012. (Best Paper Honorable Mention)
· V. Benzaken, J-D. Fekete, P-L. Hémery, W. Khemiri and I. Manolescu. EdiFlow: data-intensive interactive workflows for visual analytics. In Data Engineering (ICDE), 2011 IEEE 27th International Conference on, Hannover, Germany, 04 2011. IEEE. pp.780-791, 11-16 April 2011
· Tatiana Von Landesberger, Arjan Kuijper, Tobias Schreck, Jörn Kohlhammer, Jarke Van Wijk, Jean- Daniel Fekete, Dieter Fellner. Visual Analysis of Large Graphs: State-of-the-Art and Future Research Challenges. Computer Graphics Forum, Eurographics Association, 2011, 30 (6), pp. 1719-1749.
· M. Ghoniem, J-D. Fekete and P. Castagliola. On the Readability of Graphs Using Node-Link and Matrix- Based Representations: Controlled Experiment and Statistical Analysis. Information Visualization Journal, 4(2):114– 135, 2005.
Available Lectures
To request a single lecture/event, click on the desired lecture and complete the Request Lecture Form.
Advanced Interaction for Information Visualization

Information Visualization (InfoVis) is a research field dedicated to the design and evaluation of visual representations and interactions to explore and understand large data set. Until recently,...

Advances in Network Visualization

Graphs are powerful mathematical structures for modeling and representing many natural phenomena. In trying to explore and make sense of graphs collected in the wild-such as social interactions stored...

To request a tour with this speaker, please complete this online form.

If you are not requesting a tour, click on the desired lecture and complete the Request this Lecture form.

All requests will be sent to ACM headquarters for review.