Dr. Gabor Fichtinger
Based in Kingston, ON, Canada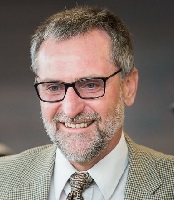 Bio:
Gabor Fichtinger received the University Doctor degree in Computer Science from the Technical University of Budapest, Hungary, in 1990. Presently he is a Professor at Queen's University, Canada. His primary appointment is in Computer Science and he has cross appointments in Surgery, Mechanical & Materials Engineering, and Electrical & Computer Engineering. He is an Adjunct Professor in Radiology and Computer Science at the Johns Hopkins University, USA; Adjunct Faculty of the Techna Institute of the University of Toronto, Canada; Adjunct Research Professor of Medical Biophysics at Western University, Canada; and, Honorary University Professor at the Universitas Budensis, Hungary.
His research and teaching interest is Computer-Assisted Surgery, an interdisciplinary field that covers medical imaging, image computing, computer graphics, visualization, surgical planning, motion tracking, robotics, biosensors and, most importantly, the integration of all these into workable clinical systems and translating them to clinical use. He further specializes in minimally invasive percutaneous (through the skin) medical interventions performed under image guidance, with primary application in the detection and treatment of cancer and musculoskeletal conditions. He has authored and co-authored over 600 publications in these subjects. Professor Fichtinger is the director of the Laboratory for Percutaneous Surgery (Perk Lab, http://perk.cs.queensu.ca) which develops free open-source software platforms for prototyping surgical navigation systems. The Perk Lab software platforms are used on all continents in over 80 countries.
Professor Fichtinger is a Marie Curie Fellow, MICCAI Fellow, an IEEE Fellow, an IEEE EMBS Distinguished Lecturer and, most recently, an ACM Distinguished Speaker. He holds the Cancer Care Ontario Research Chair in Cancer Imaging. He is associate editor and editorial board member for the leading journals of his field (Medical Image Analysis, IEEE Transactions on Biomedical Engineering, International Journal of Computer Assisted Radiology and Surgery). He serves on the Boards of the International Society of Computer-Assisted Surgery (ISCAS) and the Medical Image Computing and Computer Assisted Intervention (MICCAI) Society where he also serves as Executive Secretary.
Available Lectures
To request a single lecture/event, click on the desired lecture and complete the Request Lecture Form.
To request a tour with this speaker, please complete this online form.
If you are not requesting a tour, click on the desired lecture and complete the Request this Lecture form.
All requests will be sent to ACM headquarters for review.