Dr. Sebastian Fischmeister
Based in Waterloo, Ontario, Canada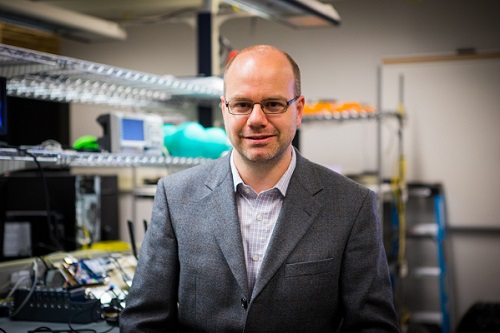 Bio:
Sebastian Fischmeister received his Dipl.-Ing. degree in Computer Science from the Vienna University of Technology, Austria, and his Ph.D. degree in Computer Science from the University of Salzburg. He was a recipient of the Austrian APART stipend for young, excellent researchers (2005) and worked at the University of Pennsylvania, USA, as Post Graduate Research Associate. Currently, Dr. Fischmeister is working as an Associate Professor in the Department of Electrical and Computer Engineering at the University of Waterloo, Canada.
As part of his work, Sebastian Fischmeister performs systems research at the intersection of software technology, distributed systems, and formal methods. His preferred application area is in safety-critical embedded real-time systems in the domain of automotive systems, aerospace, and medical devices. Key highlights of his research include a framework for Real-time Ethernet, a dynamic binary instrumentation tool for time-aware systems, and real-time capable runtime monitoring. A slightly modified version of his real-time communication framework was used to promote the ASTM F29.21 standard on the Integrated Clinical Environment. With industry collaboration, he built the APMA Connected Vehicle Technology Demonstrator, as well as several CES demos. These demos include the Renesas Autonomy demonstrator of 2017 and 2018, and the DENSO Driving Artificial Intelligence (AI) demonstrator. He is now working on data analysis for assessing the safety and security of mission-critical systems. Dr. Fischmeister is a licensed Canadian Professional Engineer.
Available Lectures
To request a single lecture/event, click on the desired lecture and complete the Request Lecture Form.
A Safety-critical Embedded Systems Primer

Embedded systems integrate physical and logical processes as they execute algorithms and interact with the environment through actuators and sensors. Embedded systems are omnipresent,...

From Automated to Autonomous Driving

Fully autonomous driving for vehicles on public roads is technology that can fundamentally transform our society. The numerous benefits are what inspires industry, researchers, the public,...

Safety and Security for Future Embedded Systems

For decades, safety was the dominating topic for cyberphysical systems. Safety of a system ensures that in the case of faults, the system is still highly unlikely to cause harm to users,...

To request a tour with this speaker, please complete this online form.

If you are not requesting a tour, click on the desired lecture and complete the Request this Lecture form.

All requests will be sent to ACM headquarters for review.