Dr. Kristina Höök
Based in Stockholm, Sweden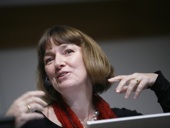 Bio:
Höök, born in 1964, works as Professor in Interaction Design at Royal Institute of Technology (KTH), Sweden, part-time at SICS (Swedish Institute of Computer Science) and is a Visiting professor at Northumbria University, Newcastle, U.K.
• Höök has published more than 100 articles in highly renowned conferences and journals, H-index 35.
• Höök is an associate editor of the ACM SIGCHI journal ToCHI, she was technical program chair of the ACM SIGCHI flagship conference CHI in Austin, Texas, 2012, was elected to the ACM SIGCHI Executive Council in 2013 and has served in many other roles at international conferences.
• Höök has received several awards for her work and prestigious commissions nationally as well as internationally, most notably the ERCIM Cor Baayen Fellowship award for her thesis work in 1997 and an award and grant from Swedish Foundation for Strategic Research for "Future Research Leaders" in 2004.
• Höök has several best paper nominees at CHI, the premier venue in her field, and a "best of ACM award" for her journal paper on Strong Concepts together with Professor Löwgren.
• Höök has given several keynote presentations: at Mensch & Computer in 2003, NordiCHI in 2004, Persuasive Technology conference in 2008, EC-TEL in 2008, Interact in 2009, IASDR conference in 2011, India HCI conference in 2014, as well as an invited talk at the Royal Society in London in 2009.
• Höök is serving on the IT-minister's council since 2006 and has been a personal advisor to the Social Democrat Party leader Mona Sahlin.
• Höök was elected to The Royal Engineering Academy in 2005 and is named by the newspaper Computer Sweden as being among the 50 most influential women in IT in Sweden every year since 2008.
• Höök (together with Waern, Juhlin and Holmquist) started the Mobile Life VINNexcellence centre in 2007 and obtained funding until 2017. She is the appointed leader of the centre.
Höök's earlier work focused on how to design for what we name social navigation – following others when navigating virtual and physical spaces to find your way, and seamfulness – letting the seams in network coverage and similar be visible and accessible to end-users. Later, Höök engaged in designing for emotion. Her focus became on non-reductionist design for mind and body as a whole, creating for affective loops where user and system engage in a form of interactive dance. A range of systems were created exemplifying how bodily, movement-based interaction or interaction based on bio-sensors can be the basis for meaningful and involving designs: with plush toys, mobile communication, a body-based diary, communication between friends in an office, communication between friends in and a game using breathing as input.
Theoretically, Höök works from a phenomenological perspective – trying to design for embodied interaction. But instead of contributing to the grand theories of human activities, Höök encapsulates design insights into what she, together with Professor Löwgren, framed as strong concepts. That is, ways of expressing knowledge on how to design for e.g. social navigation, seamfulness, affective loops or somaesthetics that embody aspects of the grand theory (phenomenology and pragmatism), but in a form that is accessible to a designer.
Available Lectures
To request a single lecture/event, click on the desired lecture and complete the Request Lecture Form.
Designing for Somaesthetics

In designing for bodily experiences, there has been a lack of theories that can provide the underpinnings we need to understand and deepen our design thinking. Despite all the work we have seen on...

The Mobile Life? An enjoyment society

The Mobile Life Centre, started in 2007, has grown to be about 45 researchers, exploring experiential, leisure and playful mobile and ubiquitous interactions. We do serious research on what we...

What is design knowledge?

Research through design (RtD) aims at bringing out design knowledge in different forms: both the ultimate particulars (specific designs used in specific contexts) as well as more generic...

To request a tour with this speaker, please complete this online form.

If you are not requesting a tour, click on the desired lecture and complete the Request this Lecture form.

All requests will be sent to ACM headquarters for review.