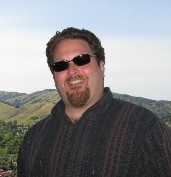 Bio:
Craig "Xray" Halperin is a visual effects artist whose career spans feature film, advertising, location-based entertainment, video games and interactive media. He got his start providing on-set graphics for the TV show "The Fall Guy" in 1983 using an Apple2. He drowned passengers falling off the "Titanic", added veins to Brad Pitt's face during his "Interview with the Vampire", attempted to kill John Conner in "Terminator 2: 3D – Battle Across Time", crashed planes on "Fight Club" and hit the Brotherhood of Mutants with optic force blasts on "X-Men 2: X-Men United".
He was the colorist for digital film scans on "Apollo 13", led the crowd animation teams on Dreamworks' "Bee Movie", Disney's "A Christmas Carol" and Disney's "Mars Needs Moms" and worked on visual effects for "Kung Fu Panda". Craig is currently working on visual effects for commercials, special venues and virtual reality.
Craig taught at the Gnomon School for Visual Effects in Hollywood and was the Dean of the Digital Hollywood Institute for Media Arts in Santa Monica. He served as the Chair of Los Angeles ACM SIGGRAPH in 2007 and 2008. He organized a course on crowd animation for SIGGRAPH Asia in Yokohama Japan in 2009. He's been an invited lecturer at schools and conferences from Shanghai to Mumbai. In 2010 he was the keynote speaker for the Xi'an Animation Conference in China.
Available Lectures
To request a single lecture/event, click on the desired lecture and complete the Request Lecture Form.
A History of Computer Graphics

Craig presents an overview of the history of computer graphics and a review of important milestones in the art of visual effects. Starting from the earliest use of oscilloscope based artwork and mechanically...

A Procedural Perspective

Craig "Xray" Halperin hopes to entertain as much as educate with an opinionated presentation on his personal professional journey. Beginning with an explanation...

To request a tour with this speaker, please complete this online form.

If you are not requesting a tour, click on the desired lecture and complete the Request this Lecture form.

All requests will be sent to ACM headquarters for review.