Dr. Haitham S Hamza
Based in Giza, Egypt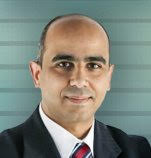 Bio:

Haitham S. Hamza (ACM Senior Member, IEEE Member) is a Professor of Information Technology at Cairo University, Egypt. In 2015, he established the first ACM Professional member in Cairo and currently serves as the Treasurer Officer of the chapter. In 2016, he served as the Program Chair of the 2ndAfrica and Middle East Conference on Software Engineering (AMECSE 2016) that is was organized technical in-cooperation with the ACM SIGSOFT. In 2015, Haitham established and currently manages the Open Data Institute (ODI) Cairo Node in Egypt as part of the ODI HQ in London. The node is the first ODI node in Africa. He is also the co-founder and a member of the IoT-Egypt Forum, the first forum in Egypt that explores the IoT adoption in Egypt in terms of opportunities, challenges, and requirements. Since 2013, he serves as the National Contact Point (NCP) for ICT for the H2020 EU funding progamme in Egypt.
Haitham currently serves as the R&D Department Manager at the Software Engineering Competence Center (SECC) of the Information Technology Industry Development Agency (ITIDA). His main responsibility is to adopt and adapt best practice and new technologies to local industries (in particular SMEs) and universities to support the ecosystem of the innovation and entrepreneurship culture in Egypt. From 2007 to 2012, he served as a Quality Expert at SECC, where he delivered several consultation services and training courses to more than 500 professionals and 40 organizations in Egypt and abroad in various areas in IT technologies and ITSM including: ITIL, CMMI-DEV, CMMI-SVC, Open Data, Software Reuse, Software Architectures, Object-Oriented Technologies, Software Testing, Requirements Engineering. Haitham holds several professional certificates including the ITIL Expert and Certified ITIL Trainer from the APMG, ODI Registered Trainer for Open Data, Certified COBIT 5 Foundation and Assessor, Certified TOGAF Level 1 and Level 2 from OMG.
Haitham received the B.S. (Honors) and the M.S. degree in Electronics and Communication Engineering from Cairo University, Cairo, Egypt, in 1998 and 2001, respectively. He received the M.S. and the Ph.D. degrees in Computer Science from the University of Nebraska-Lincoln (UNL), USA in 2002 and 2006, respectively. He is a Fling fellow to the University of Nebraska-Lincoln. He is also the recipient of the Best Paper Award in the Optical Symposium of Broadnets in 2005, and the recipient of the Graduate Research Assistant Award for the Collage of Art and Science in 2006.
He has graduated and currently supervise more than 22 Ph.D. and M.Sc. students. He has more than 80 papers published in international conferences and journals including IEEE/ACM Transaction on Networking, IEEE/OSA Journal of Lightwave Technology, IEEE Globecom, IEEE ICC, IEEE PIRMC, SEKE, SPLC in various areas in IT including computer and communication networks, software engineering, and computer science education issues. His current research interests include Open data for smart cities, software modularity theory, optical interconnects, and Internet-of-Things (IoT) semantic integration and annotation frameworks.
Available Lectures
To request a single lecture/event, click on the desired lecture and complete the Request Lecture Form.
Agile ITIL: An Approach for Practical Implementation of ITIL

IT Service Management (ITSM) standards and frameworks aim at improving the design, implementation, and operation of IT services to ensure delivery of business value in a cost-effective way....

An Outlook of Software Engineering Discipline

This talk aims at providing a comprehensive overview about the discipline of software engineering, and explains how the discipline has emerged and progressed over the last half century. The talk...

Demystifying the IoT Platforms

The concept of Internet of things (IoT) has been around for more than a decade now and appears to continue attracting the attention of industry and research communities. The holistic vision...

Value Creation with Open Data: Potentials and Challenges

Open Data, as defined by the Open Data Institute (ODI), refers to the data that is made available by organizations, businesses and individuals for anyone to access, use and share. The...

To request a tour with this speaker, please complete this online form.

If you are not requesting a tour, click on the desired lecture and complete the Request this Lecture form.

All requests will be sent to ACM headquarters for review.