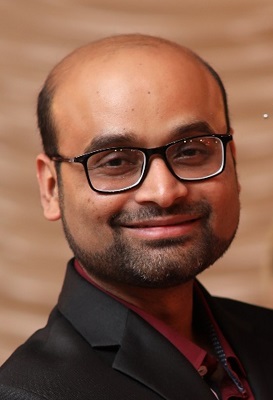 Bio:
Faraz Hasan is a Senior Lecturer in Communication Engineering and Networks at Massey University, New Zealand, where he leads the Telecommunication and Network Engineering research group. Between 2017 and 2019, he served as the Director of Outreach and Engagement for Massey University's School of Engineering and Advanced Technology.
He has experience of securing contestable funding through Samsung Academic Research Fund (South Korea), New Zealand's Ministry of Business grants (Global Strategic Partnerships, Pre Seed Accelerator Funding and Curious Minds), European Commission's ICT Travel Exchange program, New Zealand's Department of Internal Affairs and Internet New Zealand for his various research projects. He has also been a co-investigator of a Trans Eurasian Information Network (Asia Pacific) grant geared at providing Internet connectivity in rural schools. His work has been covered by international and local media including Reuters, Los Angeles Times, NZ Herald, West TV Perth, Radio New Zealand, etc., and is also cited by New Zealand Ministry of Health's reports to the World Health Organization.
Faraz Hasan obtained his PhD degree from Ulster University, UK, in 2011 on Vice Chancellor's Research Scholarship. He was invited to present his PhD research in the SET for Britain exhibition that was held in the United Kingdom's House of Commons in 2010. He was selected among the top 20 PhD researchers across the UK in the ICT Pioneers' Exhibition that was hosted by Engineering and Physical Sciences Research Council (EPSRC) in 2011. He completed his Bachelor's degree in Electrical Engineering from NED University of Engineering and Technology, Pakistan, in 2008, with distinction. He started his post PhD research at Korea Advanced Institute of Science and Technology (KAIST) in the Department of Aerospace Engineering in 2011. In 2012, he joined Sungkyunkwan University (South Korea) as an Assistant Professor and led the Future Heterogeneous Research Group. He has been with Massey University, New Zealand, since July 2014.
Faraz Hasan has served on the Science Policy Exchange panel, which is led by New Zealand Prime Minister's Chief Science Advisor, between 2016 and 2018. He has published a number of internationally peer-reviewed journal and conference publications, including 4 books. He has given a number of invited talks at universities, international conferences and in city libraries, and consistently reviews research papers, book proposals and funding proposals.
He is a professional member of the ACM.
Available Lectures
To request a single lecture/event, click on the desired lecture and complete the Request Lecture Form.
Device to Device Discovery for High-Frequency 5G Networks

5G will be deployed in the 3.5GHz band across the world in the first instance. The future deployments in high-frequency bands (28GHz, 38GHz, etc.) will unleash the true potential of 5G...

Recent Developments in Device-free Passive Technology

The art of positioning a user without needing them to carry a device has matured over the years. The so-called 'device-free' techniques that were originally introduced for...

What 5G is and what it isn?t

This talk introduces the Fifth Generation (5G) of mobile phone technology and addresses a number of relevant technical and non-technical issues. This talk starts with formally defining 5G...

To request a tour with this speaker, please complete this online form.

If you are not requesting a tour, click on the desired lecture and complete the Request this Lecture form.

All requests will be sent to ACM headquarters for review.