Dr. James D Herbsleb
Based in Pittsburgh, PA, United States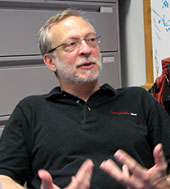 Bio:
James Herbsleb is a Professor in the Institute for Software Research in the School of Computer Science at Carnegie Mellon University. His research interests lie primarily in the intersection of software engineering, computer-supported cooperative work, and socio-technical systems, focusing on such areas as geographically distributed development teams and large-scale open source development. His research has won numerous awards, including the Alan Newell Award for Research Excellence, Most Influential Paper at ICSE, ACM Distinguished papers at ICSE and ESEM, Best Paper award at CSCW, and Best Paper award at the Academy of Management Conference. He holds a PhD in psychology, a JD in law, and an MS in computer science. For about two decades, he has worked with assorted colleagues and minions to try to understand the complex and dynamic relationship between human collaboration and the software that the humans are designing and using. On his optimistic days, he feels he has made a bit of progress. Herbsleb has been a member of ACM since May, 2001.
Available Lectures
To request a single lecture/event, click on the desired lecture and complete the Request Lecture Form.
Coordination in Open Collaboration Communities

Open collaboration communities produce highly complex work yet lack many of the coordination mechanisms that exist in more traditional organizations. This study examines an open source software...

On the Diminishing Prospects for an Engineering Discipline of Requirements

What do the following have in common? (1) describing the computation an electronic control unit should perform as it detects rotational speed from wheel speed sensors and adjusts hydraulic valves...

Socio-technical Coordination

Coordination, or managing dependencies among tasks, has long been recognized as one of the most difficult, pervasive, and persistent problems in large-scale software development. A...

To request a tour with this speaker, please complete this online form.

If you are not requesting a tour, click on the desired lecture and complete the Request this Lecture form.

All requests will be sent to ACM headquarters for review.