Dr. Celestine Iwendi
Based in Uppsala, Sweden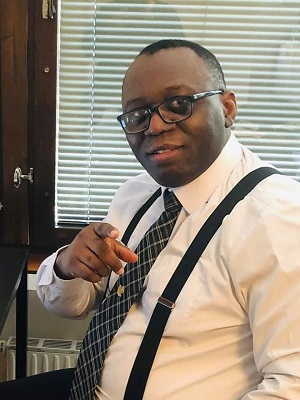 Bio:
CELESTINE IWENDI is a visiting Professor with Coal City University Enugu, Nigeria and Associate Professor (Senior Lecturer) with the School of Creative Technologies, University of Bolton, United Kingdom. He is also a Fellow of the Higher Education Academy, United Kingdom and a Fellow of the Institute of Management Consultants. Other assignments include Adjunct Professor Delta State Polytechnic, Nigeria. His past assignments include Senior Researcher, WSN Consults Ltd United Kingdom, Electronics and Sensor Researcher, University of Aberdeen, United Kingdom, Lead Electronics Engineer, Inscentinel Ltd United Kingdom, Electronics Engineer, Nitel Nigeria and College Lecturer, Federal Girls Technical College, Uyo, Nigeria. He received his PhD in Electronics from University of Aberdeen, United Kingdom, MSc from Uppsala University, Sweden, MSc from Nnamdi Azikiwe Nigeria and BSc from Nnamdi Azikiwe University, Nigeria.
He is supervising/co-supervising several graduate (MS and Ph.D.) students and a mentor to ACM student members at SAGE University Indore, Indian. His research interests include artificial intelligence, internet of things, wireless sensor networks, network/cybersecurity, machine learning, data networks, etc. He has authored over 60 peer-reviewed articles. He has served as a chair (program, publicity, and track) on top conferences and workshops. Not only that, but he has delivered over 25 invited and keynote talks in five countries.
He is a Distinguished Speaker, ACM; Senior Member of IEEE; Member, ACM; Member, IEEE Computational Intelligence Society; Senior Member, Swedish Engineers; Member, Nigeria Society of Engineers; Member, Smart Cities Community, IEEE; Member. He is currently serving as the Newsletter Editor, and a Board Member IEEE Sweden section. Likewise, he is student branch counselor and mentoring several PhD students in Ai, robotics, internet of things and blockchain. Furthermore, he has developed operational, maintenance, and testing procedures for electronic products, components, equipment, and systems; provided technical support and instruction to several organisations. He is a community developer, philanthropist and an International speaker in many top conferences and webinar.
Available Lectures
To request a single lecture/event, click on the desired lecture and complete the Request Lecture Form.