Dr. Scott Jenson
Based in Mountain View, CA, United States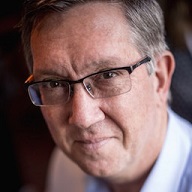 Bio:
Scott Jenson has been doing user interface design and strategic planning for over 20 years. He worked at Apple on System 7, Newton, and the Apple Human Interface guidelines. He was the director of Symbian's DesignLab, VP of product design for Cognima, a manager of mobile UX for Google for 5 years, and a creative director at frog design in San Francisco.
Scott returned to Google working on the Chrome team in November 2013
As a battle-scarred veteran of the software industry, Scott has shipped a consumer spreadsheet, been a part of 2 Mac OS releases, 5 Newton product cycles, 4 commercial web site revisions, designed 3 different mobile phone UIs, sworn at innumerable mobile browsers, and has over 20 patents.

Scott has published numerous articles and book chapters on a variety of topics in Human-Computer Interaction focusing on mobile phones, smart devices, and the internet of things. His essays can be found at http://jenson.org

He is the author of The Simplicity Shift (2002) a handbook for product managers. He has also contributed chapters to The Inside Text (2005) and HCI Remixed (2007). He was interviewed for Sketching User Interfaces (2007) and The Customer Experience Revolution (2011)

Scott has attended the CHI conference since 1988 and did the closing keynote for CHI 2014 in Toronto.
Available Lectures
To request a single lecture/event, click on the desired lecture and complete the Request Lecture Form.
Home Automation is an EasyHard problem

It's so easy to fall into the trap that the internet of things 'just works'. This lecture shows how even something as simple as turning on a light can filled with UX distasters....

The Physical Web

The history of technology and interaction design is circular. A new technology creates a new product concept that starts off primitive but slowly matures over time. Then a new technology...

The UX Grid of IoT

The "Internet of Things" is too broad a concept. It can be many things and that is a source of confusion. This 2x2 matrix of the UX Grid of IoT is a simple breakdown but it allows...

To request a tour with this speaker, please complete this online form.

If you are not requesting a tour, click on the desired lecture and complete the Request this Lecture form.

All requests will be sent to ACM headquarters for review.