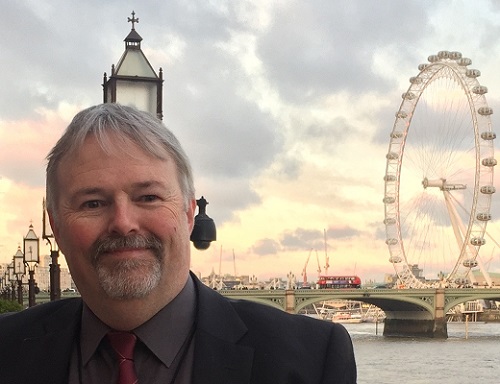 Bio:
Nigel W. John holds a chair in computer science at Chester University, UK. Previously he was director of research within the School of Computer Science at Bangor University. He leads the Medical Graphics Research Group that he established in 2003. He was a co-Director and founder of the Wales Research Institute of Visual Computing, and Director and founder of the Biomedical Research Unit for Advanced Medical Imaging and Visualization.
Prof. John has been awarded grants for many projects funded by the UK Research Councils and European Commission involving high performance visualisation, haptics and virtual environments, with a particular focus on medical applications. In 2006, he received the Twelfth Annual Satava Award for accomplishments to the field of computer graphics and medical visualization. Each year the award is presented to an individual or group who demonstrate unique vision and commitment to the improvement of medicine with the use of advanced technology.
Prof John is an elected Fellow of the Eurographics Association and was co-chair of the EG2001 and EG2008 conferences, and formerly the chair of the Eurographics Professional Board. He has been involved with Eurographics and ACM SIGGRAPH throughout his academic career. He is a Fellow of the Learned Society of Wales (elected in 2014). In 2013 he became a Churchill Travelling Fellow. In 2016 he became a Fellow of the Higher Education Academy.
Prof. John has also worked in industry. Whilst at Zeneca Pharmaceuticals, he was part of the medical imaging team that developed an innovative system for the reconstruction and volume analysis of three-dimensional freehand ultrasound data. At Silicon Graphics, he was the medical visualisation expert for the UK and subsequently a Business Development Manager for Silicon Graphics Biomedical.
He was awarded his Ph.D in 1990 after carrying out research into the development of motion algorithms for 3D Computer Animation.
His personal page can be found on http://nigeljohn.org/.
Available Lectures
To request a single lecture/event, click on the desired lecture and complete the Request Lecture Form.
Bits, Bytes and Blood

This talk explores the role of computer graphics and related technologies (such as Virtual Reality and Augmented Reality) in supporting some of the latest products to be used in hospitals: from...

Can we build the Star Trek Holodeck yet?

This lecture explores the development of Virtual Reality technologies from the 1960s to the present day. The question of how close we are to achieving the Star Trek Holodeck (first introduced as...

State of the Art of Mixed Reality in Medicine

Mixed Reality (MR) is of increasing interest within technology- driven modern medicine but is not yet used in everyday practice. This situation is changing rapidly, however, and this talk explores...
To request a tour with this speaker, please complete this online form.
If you are not requesting a tour, click on the desired lecture and complete the Request this Lecture form.
All requests will be sent to ACM headquarters for review.