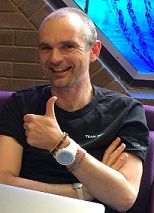 Bio:
Matt Jones has spoken around the world on mobile and ubiquitous HCI in both industry and academic contexts. His work has been featured in the press, broadcast and online media. He is a multidisciplinary Computer Scientist who has worked on mobile interaction design for the past 20 years. As well as many scientific articles, he has written two books that have helped shape a broader understanding of the field (Mobile Interaction Design, Wiley; and There's Not an App for that, Morgan Kaufmann). His work has involved working with communities across the globe and he is a Royal Society Wolfson Research Merit Award holder for his work on mobile systems for resource-constrained communities in India and Africa. More at www.undofuture.com
Available Lectures
To request a single lecture/event, click on the desired lecture and complete the Request Lecture Form.
Touching the Future

Discover the future of screen technology with computer scientist Matt Jones. Hear how his team are exploring mobile displays that mutate to create textures and change shape to reveal controls like...
To request a tour with this speaker, please complete this online form.
If you are not requesting a tour, click on the desired lecture and complete the Request this Lecture form.
All requests will be sent to ACM headquarters for review.