Dr. Samee U Khan
Based in Fargo, ND, United States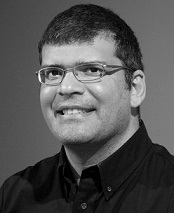 Bio:
Samee U. Khan received a BS degree in 1999 from Ghulam Ishaq Khan Institute of Engineering Sciences and Technology, Topi, Pakistan, and a PhD in 2007 from the University of Texas, Arlington, TX, USA. Currently, he is Associate Professor of Electrical and Computer Engineering at the North Dakota State University, Fargo, ND, USA. Prof. Khan's research interests include optimization, robustness, and security of: cloud, grid, cluster and big data computing, social networks, wired and wireless networks, power systems, smart grids, and optical networks. His work has appeared in over 300 publications. He is on the editorial boards of leading journals, such as IEEE Access, IEEE Cloud Computing, IEEE Communications Surveys and Tutorials, and IEEE IT Pro. He is an ACM Distinguished Speaker, an IEEE Distinguished Lecturer, a Fellow of the Institution of Engineering and Technology (IET, formerly IEE), and a Fellow of the British Computer Society (BCS).
Available Lectures
To request a single lecture/event, click on the desired lecture and complete the Request Lecture Form.
Big Data Recommendation Systems

Recommendation systems were developed in the 90s to address the challenges of automatic and personalized selection of data from diverse and overloaded sources of information. These systems...

Data Center Networks: Trends, Opportunities, and Challenges

The major Information and Communication Technology (ICT) components within a data center are: (a) servers, (b) storage, and (c) interconnection networks. The data center network (DCN) is...

Universal Design in Learning

It is a well-known fact that the human learning experience is not universal. Consequently, when developing instructional materials, we must be cognizant of techniques and procedures that...

To request a tour with this speaker, please complete this online form.

If you are not requesting a tour, click on the desired lecture and complete the Request this Lecture form.

All requests will be sent to ACM headquarters for review.