Dr. Fernando Koch
Based in Melbourne, Australia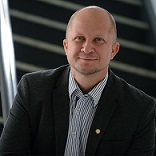 Bio:
Dr. Fernando Koch is Senior Research Fellow, Department of Computing and Information Systems, The University of Melbourne, and Manager, Solution 49x Group, KPMG. He is a former Visiting Professor at Korea University and ACM Distinguished Speaker. He has been awarded the Eisenhower Fellowship 2016, Australian Endeavour Executive Fellowship 2015, and CNPq Productivity in Technology and Innovation in 2016. He was a Director R&D at SAMSUNG Research Institute (2013-16) leading research projects around computational intelligence, human-centered IoT, human-computer interface, social computing, informatics in education, security and others. Moreover, he was a Research Scientist at IBM Research Brazil (2011-2013) where he received the IBM Eminence and Excellence Award (2012) and the IBM Outstanding Contributor Award (2013) for leadership in research. He has over 20 years of IT Industry experience with practice in R&D, product development, and business development with companies in the Silicon Valley, Europe, Brazil, and Australia. He received the Ph.D in Computer Sciences (2009) from Utrecht University in collaboration with The University of Melbourne. He participated in the PostDoc (2010) in Computer Sciences at Utrecht University. He also holds M.Sc. (1997) and B.Sc. (1993) degrees in Computer Sciences by the Federal University of Santa Catarina, Brazil. He has published over 70 papers and more than 30 patents. He is IEEE Senior Member and ACM Senior Member. His research interests include Computational Intelligence, Digital Education, Mobile Computing, Distributed Computing, and Computational Social Sciences.
Available Lectures
To request a single lecture/event, click on the desired lecture and complete the Request Lecture Form.
Disruptive Technologies and the Future of Society

The new generation of technology development -- including Computational intelligence, Cognitive Computing, Internet of Things, Social Computing and Virtual Reality, and others – will disrupt...

Evolution of Digital Education and Impact on Learning Performance

The evolution of Digital Education focuses on delivering the best quality education for all. The results will be the enhancement of society as a whole, impacting from health to happiness, from...

Social Applications and Sensible Societies

In this lecture, we will entice the audience to think of mobile media technologies as a tool to address urban social issues. The explanation will explore the potential of mobile devices,...

The New Era of Cognitive Computing Experience

In this lecture, we explain the nature of potential new experiences that the era of Cognitive Computing will require. Historically, human-computer interaction has progressed from...

To request a tour with this speaker, please complete this online form.

If you are not requesting a tour, click on the desired lecture and complete the Request this Lecture form.

All requests will be sent to ACM headquarters for review.