Dr. Ashish Kundu
Based in San Jose, CA, United States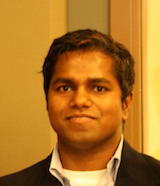 Bio:
Ashish Kundu is a Master Inventor, and Research Scientist in Security Research at the IBM T J Watson Research Center, Yorktown Heights, New York. He received Ph.D. in Computer Science from Purdue University in 2010 prior to joining IBM Research. His research interests are in Security, Privacy, Compliance and AI Ethics for cloud, blockchain, mobile/IoT and regulatory computing environments. He is leading the security and compliance research efforts for IBM Watson Health Cloud. The long-term vision of Dr. Kundu's research is: "How to weave security, privacy, compliance, and ethics requirements with the functionality". He is currently the Associate Editor for IEEE Transactions on Dependable and Secure Computing, and Guest Editor, IEEE Internet Computing Special Issue on Healthcare Informatics and Privacy. He is a IEEE Senior Member. Dr. Kundu has been a member of ACM for over decade; during this period, he has participated in several ACM conferences and acted as reviewer for many journals.
His work has been published in more than 25 publications in peer-reviewed conferences and journals, has resulted in more than 100 patents filed, and 50 or more patents granted so far. Some of his primary contributions to the scientific community are the development of leakage-free redactable signatures, discovery of security issues in programming languages, such as buffer overflows due to vulnerabilities in the "placement new" expression in C++, development of several cloud security and compliance techniques. During his research work, Ashish has established the areas of "privacy-preserving digital signatures, and data integrity techniques". GCC released a patch based on his work on Placement new vulnerabilities in C++ . Dr. Kundu's research work has directly and indirectly influenced several products and services. He is the security and compliance research lead for IBM Watson Health Cloud Platform. He has led the research activities for security and compliance for IBM Watson Genomics, and IBM Cognitive Learning for Education Cloud Platform. His prior work has also gone into IBM Hybrid Cloud offerings as well as to IBM Everyplace Access toolkit.
He has been recognized with several awards for his research contributions. Dr. Kundu received the Purdue University CERIAS Diamond Award for outstanding contributions in his doctoral research. He received IBM Research Excellence and Eminence in 2016, and best paper award in 2006. He was recognized as the Best Graduate Teaching Assistant in 2011 by Purdue University (Computer Science). In 2014, Dr. Kundu was recognized by IBM Research with the prestigious title of Master Inventor (he was the quickest researcher to achieve the recognition). He also became the youngest recipient of the Star Alumnus Award from National Institute of Technology Alumni Association, Rourkela. Dr. Kundu has also been named as a Competent Communicator by Toastmasters International.
Available Lectures
To request a single lecture/event, click on the desired lecture and complete the Request Lecture Form.
A Trusted Healthcare Data Analytics Cloud Platform

This talk presents a vision about cloud-based system for health care applications. Our system has advanced features for preserving privacy which are essential for health care applications...

Assurance of Trust: Blockchain and AI -- Necessary and Sufficient?

With the pervasive use of technology today across all aspects of our society and government, the information trust landscape is changing alongwith the threat landscape. With the advanced threats,...

Baking Compliance into Cloud: Art or Science?

With the (obvious) evolution of cloud from being a compute-centric infrastructure to a data-and-compute-centric infrastructure, more and more enterprises are bringing their data to cloud in...

Compliance-Aware Provisioning of Containers on Cloud

Deploying applications in containers have several advantages, such as rapid development, portability across different machines, and simplified maintenance. In a cloud computing environment,...

Energy Attacks on Mobile and IoT Devices

All mobile devices are energy-constrained. They use batteries thatallows using the device for a limited amount of time. In general, energy attacks on mobile devices are denial of...

Exploiting Placement New of C++

In this talk, we would explore how to exploit the "placement new" expression in C++. "Placement new" facilitates placement of an object/array at a specific memory location....

GDPR: Challenges and Issues

GDPR went into effect May 2018. As a regulatory compliance policy for member countries and citizens, it has significant implications on how computing is carried out today. In this talk, we shall...

HMACs for Graph Data

Graphs are widely used in the representation and processing of data in several domains. Assurance of integrity of graph data is essential. Related work has shown that the digital signatures...

Network Flow Security Analytics for IoT and Mobile Devices

Given that security threats and privacy breaches are commonplace today, it is an important problem for one to know whether their device(s) are in a "good state of...

Privacy-preserving Authentication of Graphs on Cloud

Leakages of structural information in trees and graphs due to (redactable) signatures lead to privacy and confidentiality breaches. So leakage-free redactable signatures are an important topic...

Research Directions in Blockchain Data Management and Analytics

Blockchain technology has emerged as a primary enabler for verification-driven transactions between parties that do not have complete trust among themselves. Bitcoin uses this...

Risk-Based Packet Routing for Privacy and Compliance-Preserving SDN

Software defined networking (SDN) is increasingly being used in data centers as well as enterprise networks. With the quality of service requirements, security and privacy requirements are...

Security and Compliance Issues in Blockchain

Blockchain is a paradigm shift in computing -- it enables computing among distributed untrusted peers without the need for any centralized trusted authority. Transaction...

To request a tour with this speaker, please complete this online form.

If you are not requesting a tour, click on the desired lecture and complete the Request this Lecture form.

All requests will be sent to ACM headquarters for review.