Dr. Masaaki Kurosu
Based in Tokyo, Japan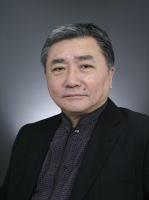 Bio:
Masaaki Kurosu is a professor at the Open University of Japan. He is also a President of HCD-Net (Human Centered Design Network) in Japan. Based on his career as a usability and UX professional in industry and academia, he proposed the concept of user engineering, ADA (Artifact Development Analysis) and now, a new concept of XE (Experience Engineering).
Before coming to NIME (National Institute of Multimedia Education) that was consolidated to the Open University of Japan in 2009, he was a professor at the faculty of informatics of Shizuoka University. He was formerly working for Hitachi Ltd. at the Design Center and the Central Research Institute. He graduated the Ph.D. course of psychology at Waseda University.
He was born in Tokyo in 1948. He served as a conference chair of APCHI98, INTERACT2001, 1st and 2nd International Conference on Human-Centered Design, and Thematic Area of HCI of HCI International in 2011, 2013 and 2014. Formerly, he served as a member of TC13 of IFIP, ISO TC159/SC4/WG6 head of Japanese mirror group, and the steering committee member of APCHI. He is an author or a contributor of more than 40 books.
ACM Involvement
- Participated SIGCHI in 1989, 1990, 1994, 1995, 1999, 2000, 2004, 2006, 2011, and 2013
- Presented a poster at SIGCHI in 1994
- Presented a short paper at SIGCHI in 1995, 2000, 2004
- Participated in a workshop at SIGCHI in 2013
- Participated in a panel session at SIGCHI in 1994, 2006,
- Held a tutorial at SIGCHI in 1999
- Joined the Asia Workshop in 2011
Available Lectures
To request a single lecture/event, click on the desired lecture and complete the Request Lecture Form.
A View of Usability and UX from the Viewpoint of User Engineering

Based on the classification of quality characteristics where two dimensions, objective quality vs. subjective quality and artifact quality vs. quality in use. the author differentiated...

To request a tour with this speaker, please complete this online form.

If you are not requesting a tour, click on the desired lecture and complete the Request this Lecture form.

All requests will be sent to ACM headquarters for review.