Dr. Alessio Malizia
Based in London, United Kingdom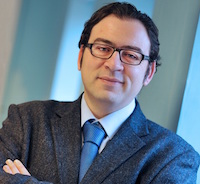 Bio:
Alessio Malizia joined the Department of Computer Science at Brunel University London (UK), as Senior Lecturer in Human-Computer Interaction in October 2012. He moved to Brunel from Universidad Carlos III de Madrid (Spain), where he was Associate Professor of Human-Computer Interaction (HCI) and Social Computing. He has previously worked at Sapienza University of Rome, IBM, SGI and Xerox PARC where he was with the Human-Document Interaction group.

Alessio's research and teaching interests focus on Human-Centred Systems and he is member of the Human-Centred Design Institute and the Institute of Materials and Manufacturing at Brunel University London. Alessio is interested in the design of Ubiquitous Interactive Systems with a special focus on the End-User Development community. He is particularly interested in systems where the physical and digital become seamlessly intertwined producing a new hybrid landscape and the study of problems arising from designing such complex hybrid environments involving collaboration of various disciplines and stakeholders.

He has been awarded 2 times with the YGGDRASIL mobility programme: the Research Council of Norway grants for highly qualified, international PhD students and younger researchers.

He is the author of over 70 publications, including the monograph "Mobile 3D Graphics" published by Springer and he is currently on the editorial board of 2 international peer-reviewed journals. He has been a consultant on user interface design and implementation to different companies, IBM and SGI among others, and regularly teaches courses on interaction design and pervasive computing. He is an ACM Senior member; He has served on numerous ACM conference program committees.
Available Lectures
To request a single lecture/event, click on the desired lecture and complete the Request Lecture Form.
To request a tour with this speaker, please complete this online form.
If you are not requesting a tour, click on the desired lecture and complete the Request this Lecture form.
All requests will be sent to ACM headquarters for review.