Dr. Panos Markopoulos
Based in Eindhoven, Netherlands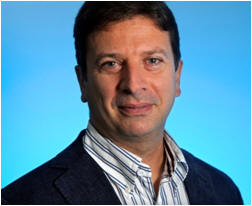 Bio:
Panos Markopoulos is a computer scientist working in the field of Human Computer Interaction.
He graduated from the department of Electrical Engineering in the National Technical University of Athens in 1989, and received a MSc in Computer Science at Queen Mary University of London, where he also did his PhD (1997). The PhD thesis of P.Markopoulos concerned the application of formal methods of software engineering in the design and engineering of user interface software, and the specification of usability engineering principles using abstract and formal interaction models.
P.Markopoulos has held research positions in Queen Mary, University of London and in Philips Research Eindhoven. He is working in the Eindhoven University of Technology since 2000 where he was appointed as a full professor in 2010. His chair with the title "Design for Behavior Change", is concerned with the design of interactive technologies to support people change their behavior, particularly in relation to health related applications. P. Markopoulos is the director of a two-year post-master program training professionals in User System Interaction. Since January 2014 he has an appointment as an adjunct professor at the University of Technology, Sydney.
P.Markopoulos has worked on several areas of human computer interaction, such as task analysis and model based design, ambient intelligence, groupware and privacy, rehabilitation technology, persuasion and interaction design for children. He has supervised 11 Phd Theses and has co-authored more than 250 peer reviewed publications in the topics mentioned above. He is a co-founder and chief editor of Elsevier's International Journal on Child Computer Interaction and editor of Interacting with Computing, and co-author of a book on Evaluating Children's Interactive Products published by Morgan Kaufmann. His efforts in editing and conference organization have mostly concerned the fields of Ambient Intelligence and Interaction Design and Children.
Most cited publications
* Markopoulos, JC Read, S MacFarlane, J Hoysniemi, (2008) Evaluating children's interactive products: principles and practices for interaction designers Morgan Kaufmann.
* Romero, P Markopoulos, J Van Baren, B De Ruyter, W Ijsselsteijn, (2007) Connecting the family with awareness systems (2007) Personal and Ubiquitous Computing 11 (4), 299-312
* Markopoulos, N Romero, J van Baren, W IJsselsteijn, B de Ruyter, ( 2004) Keeping in touch with the family: home and away with the ASTRA awareness system. CHI'04 extended abstracts on Human factors in computing systems, 1351-1354
ACM Involvement
P.Markopoulos has been a member of ACM since 2000, and has acted as Associate Chair, or as Community Chair for the Child Computer Interaction community in several CHI conferences.
Available Lectures
To request a single lecture/event, click on the desired lecture and complete the Request Lecture Form.
Designing Socio Digital Experiences

The experiences emerging from interacting with digital technology need to be understood, designed, and engineered in order to ensure that they provide value to their users, helping them achieve...

Interaction Design for Rehabilitation

There is a growing demand for rehabilitation and this necessitates the development of rehabilitation technology. Further, such technologies can not only improve the quantity of rehabilitation that...
To request a tour with this speaker, please complete this online form.
If you are not requesting a tour, click on the desired lecture and complete the Request this Lecture form.
All requests will be sent to ACM headquarters for review.