Dr. Jeanna N Matthews
Based in Potsdam, NY, United States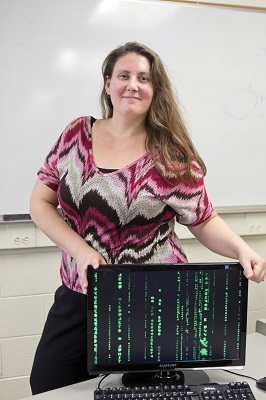 Bio:
Jeanna N. Matthews is an associate professor of Computer Science at Clarkson University (Potsdam, New York). She is currently a member of the Executive Committee of US-ACM, the U.S. Public Policy Committee of ACM. She is the co-chair of US-ACM's subcommittee of Algorithmic Transparency and Accountability. She was the chair of the ACM Special Interest Group on Operating Systems (SIGOPS) from 2011 to 2015 and is currently on the ACM Council. She is a 2017-18 Fellow at Data and Society in Manhattan. She has written several popular books including "Running Xen: A Hands-On Guide to the Art of Virtualization" and "Computer Networking: Internet Protocols in Action". Her research interests include virtualization, cloud computing, computer security, computer networks and operating systems. At Clarkson, she leads several hands-on computing laboratories including the Clarkson Open Source Institute and Clarkson Internet Teaching Laboratory. Students in these labs and in her classes at Clarkson and Cornell have been winners in a number of prestigious computing contests including the 2001, 2002, and 2004 IBM Linux Challenge, the 2005 IBM North American Grid Scholar's Challenge, the 2005 Unisys Tuxmaster competition, and the 2006 VMware Ultimate Virtual Appliance Challenge. She has worked actively on industrial projects with companies including VMware, Intel, IBM, AMD, HP and Greenplum/EMC. Jeanna received her Ph.D. in Computer Science from the University of California at Berkeley in 1999 and her B.S. in Mathematics and Computer Science from Ohio State University in 1994.
Available Lectures
To request a single lecture/event, click on the desired lecture and complete the Request Lecture Form.
Becoming a researcher: practical strategies for taming the angst and changing the world

For beginning researchers, identifying their research topic can be a daunting and intimidating task. (You mean I need to find the right question and then answer it too?) This talk is part pep talk...

Big Data? Big Promise, Big Problems

The data that we record daily about ourselves through our cell phones, credit card purchases, emails, social media postings, etc., helps us connect with each other and improve our life...

Algorithmic Accountability and Transparency and Other Alternatives to Digital Destiny

Big-data trained algorithms are increasingly used to make big decisions about people's lives, such as who gets loans, whose...

Rapid Recovery Architecture and Virtual Machine Contracts

Many seemingly innocent actions can render your personal computer unusable and the road to recovery can be painful. For example, reinstall the OS (if you know how), reinstall the...

To request a tour with this speaker, please complete this online form.

If you are not requesting a tour, click on the desired lecture and complete the Request this Lecture form.

All requests will be sent to ACM headquarters for review.