Dr. Shubu Mukherjee
Based in Southborough, MA, United States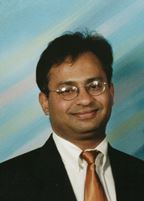 Bio:
Dr. Shubu Mukherjee is one of Cavium Inc.s Distinguished Engineers and lead architects for the OCTEON-III and Thunder family of processors. Shubu is the winner of the prestigious ACM SIGARCH Maurice-Wilkes award, a Fellow of ACM, a Fellow of IEEE, and the author of the book, Architecture Design for Soft Errors. Shubu holds 33 patents and has written over 50 technical papers in top architecture conference and journals. Before joining Cavium in May 2010, Shubu worked at Intel for 9 years and Compaq for 3 years. He received his MS and Phd from the University of Wisconsin-Madison and his B.Tech., from the Indian Institute of Technology, Kanpur.
Shubu has served as program committee member in numerous ACM-sponsored conferences. He was also the General Chair of ACM-sponsored conference ASPLOS (Architectural Support for Programming Languages and Operating Systems) in 2004.
Available Lectures
To request a single lecture/event, click on the desired lecture and complete the Request Lecture Form.
To request a tour with this speaker, please complete this online form.
If you are not requesting a tour, click on the desired lecture and complete the Request this Lecture form.
All requests will be sent to ACM headquarters for review.