Dr. Sharath Pankanti
Based in Yorktown Heights, NY, United States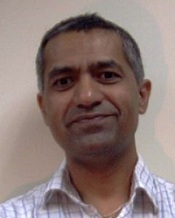 Bio:
Sharath Pankanti IBM Research Division, Thomas J. Watson Research Center, P.O. Box 218, Yorktown Heights, New York 10598 (sharat@us.ibm.com). Dr. Pankanti is a Research Staff Member in the Software Research Department at the Thomas J. Watson Research Center. He received a B.S. degree in Electrical and Electronics Engineering from College of Engineering Pune in 1984, M.Tech in Computer Science from Hyderabad Central University in 1988 and Ph.D. degree in Computer Science from the Michigan State University in 1995. He joined IBM at the Thomas J. Watson Research Center in 1995 as a postdoctoral fellow and later in 1996 became Research Staff Member. He is manager of Exploratory Computer Vision Group at T J Watson Research Center since 2008. He has led a number of safety, productivity, and security focused projects involving biometrics-, multi-sensor surveillance, rail-safety, driver assistance technologies that entail object/event modeling, detection and recognition from information provided by static and moving sensors/cameras. He is an author or co-author of more than 50 patents and more than 70 technical papers. Dr. Pankanti is a fellow of the Institute of Electrical and Electronics Engineers (IEEE) and a member of the Association of Computing Machinery (ACM). Dr. Pankanti has co-edited the first comprehensive book on biometrics, "Biometrics: Personal Identification" Kluwer, 1999 and co-authored, "A Guide to Biometrics", Springer 2004. For more information: http://www.research.ibm.com/ecvg.
Available Lectures
To request a single lecture/event, click on the desired lecture and complete the Request Lecture Form.
Actionable Video Content Summarization: Lessons from Practical Case Studies

For the first time in the history of universe, the video data generated by humans has exceeds all other forms of the data. While no one denies the utility of the information hidden within...

To request a tour with this speaker, please complete this online form.

If you are not requesting a tour, click on the desired lecture and complete the Request this Lecture form.

All requests will be sent to ACM headquarters for review.