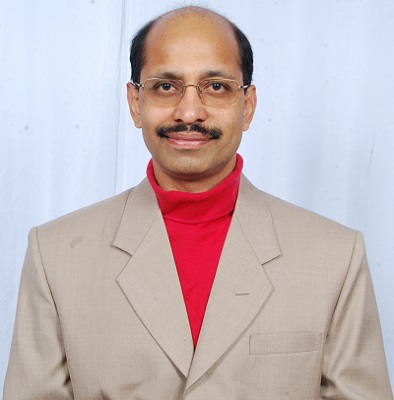 Bio:
Dr. Vishnu S. Pendyala
Technical Leader, Cisco Systems Inc., San Jose, California, USA
Adjunct Faculty, San Jose State University, California, USA
Vishnu S. Pendyala is a Member of ACM, Senior Member of IEEE and Computer Society of India, with over two decades of software experience with industry leaders like Cisco, Synopsys, Informix (now IBM), and Electronics Corporation of India Limited. He received his PhD in Computer Engineering from Santa Clara University and holds BE(CSE), MBA(Fin.), and MS(Comp. Eng'g) degrees from Indian and U.S. universities.
He served as a repeat technical paper reviewer for professional journals and conferences, including the IEEE Computer, the annual IEEE International Conference on E-Commerce from 2003 - 2007, and twenty-five others over the years. He served as an Area Governor with Toastmasters International and received the Distinguished Toastmaster, Area Governor of the Year, and Silver Scribe awards. He was on the executive council of Computer Society of India's SIGBDA and was the founding editor of its flagship publication, Visleshana. He is currently on the Board of Directors of Silicon Valley Engineering Council. He authored a book titled 'Veracity of Big Data' available at https://www.springer.com/us/book/9781484236321 and major libraries, including those of MIT, Harvard, Stanford, CMU, and internationally.
Pendyala taught a well-received one-week course sponsored by the Ministry of Human Resource Development (MHRD), Government of India, under the GIAN program in November 2017, that was attended by ~60 professors from all over India. He received the Ramanujam memorial gold medal at State Math Olympiad and has been a successful leader during his undergrad years. He also played an active role in Computer Society of India and was the Program Secretary for its annual convention, which was attended by over 1500 delegates. Marquis Who's Who has selected Pendyala's biography for inclusion in multiple of its publications for multiple years. Pendyala spends his fast vanishing spare time volunteering and has been a reviewer / judge for competitions like the Grace Hopper Celebration of Women in Computing, at High School conferences like state level DECA, science fairs and other STEM events for the last several years. He has traveled widely, covering ~30 states in the US and 15 countries. He resorts to yoga, spirituality, and listening to music, to unwind and be himself.
ACM involvement:
Pendyala started as an institutional member through Cisco and presented a couple times at the Data Science unconference organized by the local SF Bay Area chapter of the ACM. He attended a few conferences organized by ACM in the past and is looking forward to more involvement with ACM in the future.
Available Lectures
To request a single lecture/event, click on the desired lecture and complete the Request Lecture Form.
Approaches to Establishing the Veracity of Big Data

In spite of their anthropomorphic role, unlike human beings, technological inventions such as the Web do not have a conscience. Still, there is often more reliance on the big data emanating...

Deep Delusions in the GAN Land

Anthropomorphism was widely explored, fantasized, and glorified since times immemorial, even in the Paleolithic ages. Anthropomorphism can gain a whole new attention today, thanks to Artificial...

Machine Learning Metaphors

Machine Learning literacy may one day become essential the way computer literacy is today. This talk intends to explain Machine Learning concepts to wider audiences by using easy to relate real...

Machine Learning for Veracity of Big Data

Machine Learning is increasingly proving itself to be the mortar of modernization. The talk will examine how Machine Learning can be applied to the problem of veracity of Big Data,...

Software Development in Large Organizations

Large organizations can leverage the economies of scale in a number of ways, particularly in the area of Software Engineering. DevOps, which evolved as a dominant Software Engineering...

To request a tour with this speaker, please complete this online form.

If you are not requesting a tour, click on the desired lecture and complete the Request this Lecture form.

All requests will be sent to ACM headquarters for review.