Professor Aaron Quigley
Based in Sydney, Australia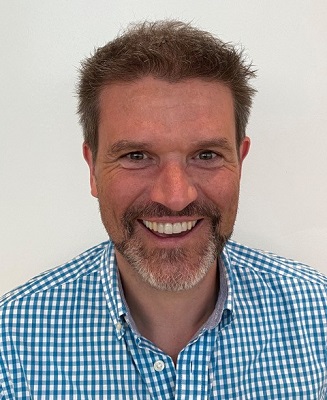 Bio:
Professor Aaron Quigley is the incoming Head of School for UNSW's School of Computer Science and Engineering in Sydney Australia and a general co-chair for the ACM CHI Conference on Human Factors in Computing Systems in Yokohama Japan in 2021. Until the end of May 2020, Aaron is the Chair of Human Computer Interaction in the School of Computer Science at the University of St Andrews, director of the Scottish Informatics and Computer Science Alliance (SICSA), board member for ScotlandIS and the DataLab. Aaron is co-founder of SACHI, the St Andrews Computer Human Interaction research group. His research interests include discreet computing, global HCI, pervasive and ubiquitous computing and information visualisation on which he has delivered over 50 invited talks.
Aaron is a member of the ACM SIGCHI steering committee for the CHI conference series and a member of the ACM Europe Council Conferences Working Group. From 2015-2020 Aaron served first as the ACM SIGCHI Adjunct Chair for specialised conferences and then the ACM SIGCHI Vice President for Conferences. From 2016-2017 Aaron was a convenor for the ACM Future of Computing Academy. In total Aaron has had chairing roles in thirty international conferences and has served on over ninety conference and workshop program committees.
His research and development has been supported by the EPSRC, AHRC, JISC, SFC, NDRC, EU FP7/FP6, SFI, Smart Internet CRC, NICTA, Wacom, IBM, Intel, Nvidia, Google, Microsoft and MERL. He has published over 180 internationally peer-reviewed publications (see ORCID) including edited volumes, journal papers, book chapters, conference and workshop papers and holds 3 patents. He has held academic and industry appointments in Singapore, Australia, Japan, USA, Germany, Ireland and the UK.
Available Lectures
To request a single lecture/event, click on the desired lecture and complete the Request Lecture Form.
Discreet Computing

Computing and interaction are changing the nature of humanity. As individuals our capabilities can be extended, our memories augmented and our senses attuned. Societies are being reshaped...

Global Human Computer Interaction

Global Human Computer Interaction is the study of HCI when considering global challenges, languages, concerns, cultures and different economic drivers. Digital technologies now underpin the...

Immersive Analytics

Human activity (in all its forms) can result in large volumes of data being collected and simply stored in the hope that one day it can be analysed and explored. From business to health...

Ubiquitous User Interfaces (UUI)

UbiComp or Ubiquitous Computing is a model of computing in which computation is everywhere and computer functions are integrated into everything. It can be built into the basic objects,...

To request a tour with this speaker, please complete this online form.

If you are not requesting a tour, click on the desired lecture and complete the Request this Lecture form.

All requests will be sent to ACM headquarters for review.