Professor Shrisha Rao
Based in Bangalore, India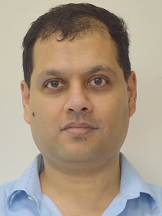 Bio:
Shrisha Rao received his Ph.D. in computer science from the University of Iowa, and before that his M.S. in logic and computation from Carnegie Mellon University. He is a professor at IIIT-Bangalore, a graduate school of information technology in Bangalore, India. His primary research interests are in applications of distributed computing, specifically algorithms and approaches for resource management in complex systems such as used in cloud computing. He also has interests in energy efficiency, sustainable computing ("Green IT"), renewable energy and microgrids, applied mathematics, and intelligent transportation systems. Dr. Rao is an ACM Distinguished Speaker and a Senior Member of the IEEE. He is also a life member of the American Mathematical Society and the Computer Society of India.
He is also a regular reviewer for the ACM Computing Reviews journal (computingreviews.com), which reviews a sample of the latest publications related to the computing sciences.
Available Lectures
To request a single lecture/event, click on the desired lecture and complete the Request Lecture Form.
Ethics in Artificial Intelligence

Artificial Intelligence (AI) systems are already widely used, and have the capacity to improve lives for billions of people going forward. However, AI systems, which are machines, are...

Resource Management in Cloud Computing

Cloud computing is an increasingly popular paradigm of offering services over the Internet; it is also an active area of research. One key area that calls for innovative approaches, is...

Safety Issues in Cyber-Physical Systems

Computers and software components are now integral to large complex systems in almost all sectors of modern society. The safety of such systems is therefore dependent upon many...

Services Science and Services Computing

New models of computation such as cloud computing, Big Data, and the Internet of Things have fundamentally upended common assumptions about the nature and purposes of computation. One thing...

Social Consequences of Artificial Intelligence

One aspect of the contemporary world is our large reliance on computation in all aspects of personal life and social interaction. We are likely as not to decide which movie to watch, which...

Sustainability in IT Systems

While we all appreciate the ways in which information technology (IT) has revolutionized society, it is becoming increasingly obvious that the full benefits of IT will be available to us...

To request a tour with this speaker, please complete this online form.

If you are not requesting a tour, click on the desired lecture and complete the Request this Lecture form.

All requests will be sent to ACM headquarters for review.