Dr. Sherif Sakr
Based in Riyadh, Saudi Arabia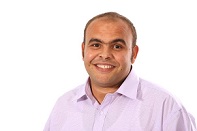 Bio:
Prof. Sherif Sakr is currently a Professor of Computer Science at King Saud bin Abdulaziz University for Health Sciences. He is also affiliated with The School of Computer Science and Engineering (CSE) at University of New South Wales (UNSW Australia) and Data61/CSIRO (formerly NICTA). He received his PhD degree in Computer and Information Science from Konstanz University, Germany in 2007. He received his BSc and MSc degrees in Computer Science from the Information Systems department at the Faculty of Computers and Information in Cairo University, Egypt, in 2000 and 2003 respectively. In 2008 and 2009, Sherif held an Adjunct Lecturer position at the Department of Computing of Macquarie University, Australia. Prof. Sakr held a visiting Researcher/Professor appointments in international reputable research and academic institutes including Microsoft Research, Redmond, USA (2011), Nokia Bell Labs, Ireland - Formerly Alcatel-Lucent Bell Labs (2012), Humboldt-Universität zu Berlin, Germany (2015), University of Zurich, Switzerland (2016), Technical University of Dresden, Germany (2016). In 2013, Sherif has been awarded the Stanford Innovation and Entrepreneurship Certificate. Dr. Sakr's research interest is data and information management in general, particularly in big data processing systems, big data analytics, data science and big data management in cloud computing platforms. He is an associate editor of the cluster computing journal and Transactions on Large-Scale Data and Knowledge-Centered Systems (TLDKS). He is also an editorial board member of many reputable international journals. Prof. Sakr is an ACM Senior Member and an IEEE Senior Member. He is also an ACM distinguished speaker and an IEEE Distinguished Speaker. Prof. Sakr is the Editor-in-Chief of the Springer Encyclopedia of Big Data Technologies.
Available Lectures
To request a single lecture/event, click on the desired lecture and complete the Request Lecture Form.
To request a tour with this speaker, please complete this online form.
If you are not requesting a tour, click on the desired lecture and complete the Request this Lecture form.
All requests will be sent to ACM headquarters for review.