Dr. Valentina Salapura
Based in NY, United States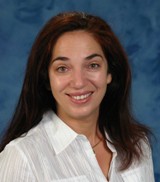 Bio:
Dr. Valentina Salapura is an IBM Master Inventor and System Architect at the IBM T.J. Watson Research Center.

Valentina is with the IBM Research in the Services Innovation Lab where she is helping IBM realize the value of cloud computing. In 2010, Dr. Salapura served as a lead for the Global Technical Outlook with the IBM Research Strategy and Worldwide Operations team to define IBM's future research agenda and strategy working with the worldwide IBM research organizations. Previously, Valentina served as architect for Power Systems building workload-optimized systems for a Smarter Planet with a focus the processing unstructured data and business analytics. Valentina has been a technical leader for the Blue Gene program since its inception where she has contributed to the architecture and implementation of the BlueGene/Q, BlueGene/P, BlueGene/L and Cyclops systems. Valentina made seminal contributions to multiprocessor-based network architectures, power/performance characterization of a computer system, and emulation of microprocessors using FPGAs. Before joining IBM Research in 2000, Dr. Salapura was a faculty member with Technische Universität Wien, where she also received her Ph.D. degree.

Valentina Salapura is recipient of the 2006 ACM Gordon Bell Prize for Special Achievements for the Blue Gene/L supercomputer and Quantum Chromodynamics. Dr. Salapura is the author of over 60 papers and several book chapters on processor and network architecture, and holds over 80 patents in this area. Dr. Salapura is a Fellow of the IEEE, and a Member of IBM Academy of Technology.

Beyond her technical work, Valentina serves as an advocate for promoting the participation of women and underrepresented minorities in technical disciplines.


Available Lectures
To request a single lecture/event, click on the desired lecture and complete the Request Lecture Form.
To request a tour with this speaker, please complete this online form.
If you are not requesting a tour, click on the desired lecture and complete the Request this Lecture form.
All requests will be sent to ACM headquarters for review.