Dr. Jibonananda Sanyal
Based in Oak Ridge, TN, United States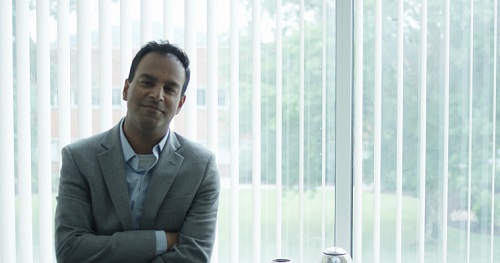 Bio:
Jibonananda (Jibo) Sanyal is the acting Group Leader of the Urban Computing Group in the Computational Science and Engineering Division at the Oak Ridge National Laboratory, USA. Previously, he led the Scalable and High Performance Geocomputation Team in the Geographic Information Science and Technology group within the laboratory. He holds a PhD and an MS from Mississippi State University (MS, USA), a BS from the University of Calcutta (Kolkata, India), and a BTech from North Eastern Hill University (Shillong, India). He was previously an R&D Staff in ORNL's Building Technologies Research and Integration Center. Earlier, in his career, he served as a software engineer for Sasken Communication Technologies (Bangalore, India) in their Product Operations division.
Recently named one of Knoxville's 40 under 40, Jibo lead a select group of scientists to provide their vision and leadership to define and align their activities with the projects, the group, and the division science agenda. He brings a unique blend of computer science expertise in geospatial applications, strategic business development leadership, and technical and organizational management skills with a track record of science delivery and technology commercialization that has been recognized nationally.
His research at ORNL is at the intersection of simulation and modeling, data, and high-performance computing. His projects involve components of pre-exascale computing, data sciences, visualization, and scalable machine learning as they apply to various problems in urban computing, geographic information sciences, situational awareness, emergency response, resiliency, and improving energy impacts in urban environments, smart electric grid, mobility, sensors & controls, and other interdependent critical infrastructures. Jibo has a strong interest in taking the research outcomes to produce tools and commercialization-ready technologies that address aspects of applied domains such as optimization, prediction, adaptation, and resiliency. His prior research focused on visualization techniques and creating operational tools for meteorological and hydrological ensemble simulations. He has a strong interest in devising sustainable solutions that bridge disciplines and require synergistic endeavors across multiple disciplines.
Jibo has a strong interest in mentoring and engages in various activities to encourage young minds in STEM careers. He is an ACM member since 2011.
Available Lectures
To request a single lecture/event, click on the desired lecture and complete the Request Lecture Form.
Accelerated Global Human Settlement Discovery

Understanding where people live is fundamental to understanding what people do and what their social needs are with respect to energy security; policy and urban development; resiliency;...

Data and Sensemaking

Humans are generating data at an unprecedented scale and making sense of this data is increasingly a challenge. This talk weaves around experiences in deriving scientific knowledge from ensemble...

Deriving insight at the intersection of the Energy-Water Nexus

Energy and water generation and delivery systems are inherently interconnected. With demand for energy growing, the energy sector is experiencing increasing competition for water. ...

Ensemble-Aware Uncertainty Visualization

Understanding uncertainty in scientific simulations is fundamental in gaining reliable insight into a scientific process. In simulation and modeling, ensembles approaches are recognized as...

Location driven computing for real-time situational awareness and humanitarian response

The world of location enabled big-data has heralded a fundamental shift in how we interact with our surroundings. A large number of our day-to-day activities are being driven by knowledge...

Multiscale Coupled Urban Systems

The interactions between urban infrastructures, the inhabitants of the urban area, and the natural environment are driven by socioeconomics, thermodynamics, and other well-modeled...

To request a tour with this speaker, please complete this online form.

If you are not requesting a tour, click on the desired lecture and complete the Request this Lecture form.

All requests will be sent to ACM headquarters for review.