Dr. Vijayalakshmi Saravanan
Based in Rochester, NY, United States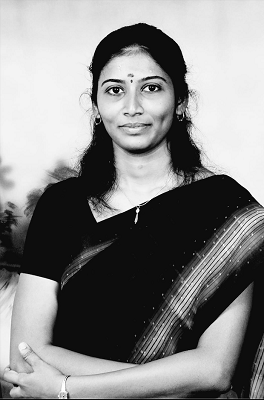 Bio:
Dr.Vijayalakshmi Saravanan is currently working as Adjunct Faculty at Golisano College of Computing and Information Sciences, Rochester Institute of Technology, USA and as Visiting Researcher at WINCORE Lab at Ryerson University, Canada. Earlier she was a Postdoctoral Associate at University at Buffalo, The State University of New York, USA and University of Waterloo, Canada under the prestigious "Schlumberger Faculty for the Future" Fellowship award (2015-2017). Prior to this, she was working at the University of Texas at San Antonio (UTSA), USA as Assistant Professor of Practice. She completed her Ph.D. under the prestigious Erasmus Mundus EU-Govt Fellowship award at Malardalen University, Sweden as a research exchange student. She has 10 years of teaching experience and has published many technical articles in scholarly international journal and conferences. She is serving as technical reviewer and program committee member for reputed conferences & journals such as GHC, SIGCSE, ELSEVIER and Springer. She is also a lead editor for Pattern Recognition Letters (2020), Interactive Multimedia Communication with 6G. Special Issue of Multimedia Tools and Applications (2020) and CRC Press Taylor and Francis, USA. She is a Senior Member of IEEE, ACM and CSI and ACM Distinguished speaker. She was the Chair of IEEE WIE Affinity Group at VIT University during 2009-2015. Also, Chair of NPA (National Postdoctoral Association) Annual Meetings and member of ABI Systers. She is a Board Member of ACM N2WOMEN (Networking Networking Women) and she received the token of appreciation from ACM CRA-W for the successful conduction of the Mobicom/MobiHOC 2010 at USA. Her research interests include Power-Aware Processor Design, Big Data, IoT, Computer Architecture, Multi-Core Architecture, SW and HW Co-Design of Multi-Core, Power-Performance Analysis of Multi-Core Architecture.
Available Lectures
To request a single lecture/event, click on the desired lecture and complete the Request Lecture Form.
Current and Future Trends in Architecture-specific research problems

The architecture of the processor describes its basic components and its operation. Due to the advancements in chip architecture and big data, data is flowing everywhere. We need to address...

Introduction to Data Science using Python Programming

Big data is the buzzword now. It refers to large amount of data collected, stored and processed using big data technologies and tools. Hence, at first we need to understand the foundations...

Perspectives on Big data, Machine learning and AI

Motivated by recent advancements in AI and Data Science in various research areas, in this tutorial, we plan to emphasize the importance of these techniques and highlight how it helps to predict...

Software Engineering and Data science

In this tutorial, we focuses on the software engineering challenges in building scalable and available big data systems.




The key topics...

To request a tour with this speaker, please complete this online form.

If you are not requesting a tour, click on the desired lecture and complete the Request this Lecture form.

All requests will be sent to ACM headquarters for review.