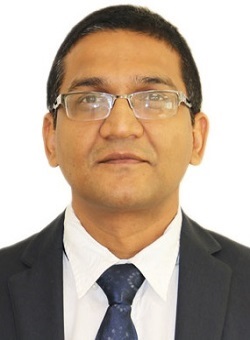 Bio:
Dr. Ashish Seth is an Author, Consultant, Researcher, Speaker and Teacher
He is a Professor at School of Global Convergence Studies, Inha University, South Korea and is presently deputed to Inha University Tashkent, Uzbekistan. He is also a visiting faculty at TSI, Riga, Latvia.
He is PhD (Computer Science) in the area of Information Systems from Punjabi University, Patiala, Punjab, INDIA in 2015 and holds M.Phil.(CS) and MCA degree. He has published more than 40 research papers in indexed journals. He has authored 4 Books and several book Chapters. He edited two books and lead editor of an indexed Journal.
He has been into research and academics for more than 17 years. He worked at various Universities in India and abroad holding different positions and responsibilities. He has organized and participated actively in various conferences, workshops and seminars. He is an active member of International societies like IEEE, CSI, IACSIT, IAENG, etc. He holds Technical Review committee and Editorial Review Board for many International Journals on Computer Science and Information Technology.
He has been served as a consultant in a research project of Ministry of Commerce and Industry, India, Aziksa, USA, UNDP, etc. He also served as subject expert under the European Union Project.
His research interests include Service Oriented Architecture, Cloud Computing and Blockchain Technologies. He finds interest in reading and writing articles on emerging technologies.
Available Lectures
To request a single lecture/event, click on the desired lecture and complete the Request Lecture Form.
Blockchain Technology: Business Foundations

Blockchain has been emerged as one of the most emerging technology which has potential to give new dimension and framework for businesses. Adoption of blockchain has grown exponentially, in...

Containers Essentials: Understanding Developer Perspective using play-with-docker

From Gmail to YouTube to Search, everything at Google and similarly every other large company runs in containers. Containerization allows our development teams to move fast, deploy software...

Data Analysis Using R programming

Data have become a real resource of interest across most industries and is rightly considered the gateway to competitive advantage and disruptive strategy. Along with the rise of data,...

Developing quick chatbots using IBM Watson Conversation

Chatbots have become extraordinarily popular in recent years largely due to dramatic advancements in machine learning and other underlying technologies. They are often described as one of...

Effect of COVID19 on Educational Sector

Pandemic has badly affected many sectors including Academics. According to UNESCO pandemic has adversely impact over 290 million students across 22 countries. The UNESCO estimates that...

Managing Business on Clouds

Cloud computing is a term referred to storing and accessing data over the internet. It doesn't store any data on the hard disk of your personal computer. In cloud computing, you can...

Research Benchmarking: Tools to evaluate research journal and author Index

There is a growing demand for transparency and accountability in research evaluation, research agencies developed a comprehensive list of evaluation tools and techniques and explained when...

To request a tour with this speaker, please complete this online form.

If you are not requesting a tour, click on the desired lecture and complete the Request this Lecture form.

All requests will be sent to ACM headquarters for review.