Dr. Balamurugan Shanmugam
Based in Coimbatore, India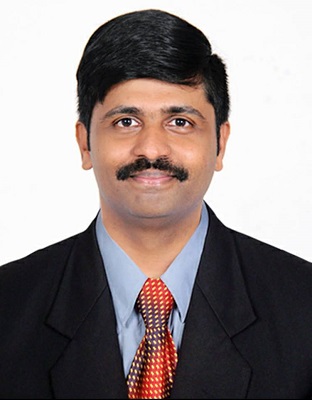 Bio:
Dr.S.Balamurugan, received his B.Tech., Degree from P.S.G.College of Technology, Coimbatore, India, M.Tech., and PhD Degrees from Anna University, India. He was conferred upon with three Post-Doctoral Degrees- Doctor of Technology(D.Tech.,), Doctor of Letters(D.Litt.,), and Doctor of Science (D.Sc.,). He has published 57 books, 300+ international journals/conferences and 100 patents. He is the Director-Research and Development, Intelligent Research Consultancy Services(iRCS), Coimbatore, Tamilnadu, India. He is serving as a research consultant to many Companies, Startups, SMEs and MSMEs. He is the Editor-in-Chief of the following Book Series: "Artificial Intelligence and Soft Computing for Industrial Transformation", Scrivener, Wiley, "Advances in Quantum Computing, Artificial Intelligence and Data Sciences", "Advances in IoT, Robotics and Cyber Physical Systems", Focus Book Series on "AIoT: Artificial Intelligence of Things", all with CRC Press Taylor & Francis Group. He is the Managing Editor of "Information Science Letters", Natural Sciences Publishing, USA. He is Associate Editor of "IEICE Transactions on Information and Systems"-Oxford University Press, "Cluster Computing"- Springer, "Simulation"- Sage Publishing, "Technology and Healthcare"- IOS Press, "World Journal of Engineering", Emerald, "International Journal of Intelligent Systems, Technologies and Application", Inderscience, "International Journal of Renewable Energy Technology", Inderscience, "Journal of Autonomous Intelligence". He is in editorial board of "International Journal of Intelligent Unmanned Systems", Emerald, "International Journal of Automation and Control", Inderscience, "International Journal of Society, Systems and Science", Inderscience, "International Journal of System Dynamics Applications", IGI, "International Journal of Service Science, Management, Engineering, and Technology", IGI, "International Journal of Knowledge and System Sciences", IGI. He also serves as Lead Guest Editor of several special issues with Springer, Elsevier, IEEE, IET, MDPI and De Gruyter.
Dr.S.Balamurugan is the recipient of "Rashtriya Vidhya Gourav Gold Medal Award" and The Best Educationalist Award from Hon.Justice O.P Saxena, Supreme Court, New Delhi. He is the recipient of "3 Lifetime Achievement Awards". He is the recipient of "Dr.A.P.J.Abdul Kalam Sadhbhavana Award" form Hon.Balmiki Prasad Singh, Former Governor of Sikkim, "Jewel of India Award" from Mr Gurpreet Singh, General Secretary, India, "Star of Asia Award" from Mr.Korn Debbaransi, Former Dy. Prime Minister, Thailand, & "Pride of Asia Research Excellence Award" from Hon.Anant. V.Sheth, Deputy Speaker- Goa, India. He received the "Prestigious Mahatma Gandhi Leadership Award" at House of Commons, British Parliament, UK. The book he authored on "Machine Learning and Deep Learning Algorithms using MATLAB and PYTHON" won "Best MATLAB Book For Beginners" Award by BookAuthority. He won the "CSI Young IT Professional Award", "Active Member CSI National Award" and "CSI Youth National Award 2020", by Computer Society of India. He is also the recipient of the Young Scientist Award, Certificate of Exceptionalism, and Outstanding Scientist Award and Best Director Award. His biography is listed in "Marquis WHO'S WHO",USA. His research interests include Artificial Intelligence, Augmented Reality, Internet of Things, Big Data Analytics, Cloud Computing, and Wearable Computing. He is a life member of ACM, IEEE, ISTE and CSI.
Available Lectures
To request a single lecture/event, click on the desired lecture and complete the Request Lecture Form.
Applications of Artificial Intelligence and Machine Learning

Artificial Intelligence is considered to be the next-big-game changer in technology. We are the living in the time, where...

Articulated Naturality Web and it's Multidisciplinary Applications

Articulated Naturality Web (ANW), an advanced version of Augmented Reality(AR), is a re-birth of the method of approaching a technology. Computer Vision is an ability to see the world what it is,...

Augmented Reality(AR), Virtual Reality(VR), Mixed Reality(MR), Extended Reality(XR) and its Industrial Applications

Today's world is strongly digitally enabled, such that the distinction between reality and digital is fuzzy. This fact strongly infers the fact of increased adoption of digital...

Cognitive Computing for Efficient Knowledge Discovery in Bigdata

Big data is computing process associated with the collection of huge data sets, these data when analyzed can reveal patterns and trends according to the field from which the data is...

IoT and Automation for building Next Generation Smart World

Smart home, Smart city and Wearable Technologies are the most exponentially growing applications of Internet of Things (IoT). Wearable Technology is considered to be highly ubiquitous and most...

Smart Healthcare System with special focus on COVID-19 Pandemic

In a Smart Healthcare System, privacy is an important issue to be taken into consideration when one wants to use the information, especially at a time when the sensitive information is to be...

To request a tour with this speaker, please complete this online form.

If you are not requesting a tour, click on the desired lecture and complete the Request this Lecture form.

All requests will be sent to ACM headquarters for review.