Dr. Richard Stallman
Based in Boston, MA, United States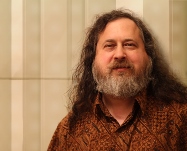 Bio:
Dr. Richard Stallman launched the Free Software Movement in 1983 and began development of the GNU operating system (see www.gnu.org) in 1984. GNU is free as in freedom (libre): everyone has the freedom to copy it and redistribute it, as well as to make changes either large or small. The GNU/Linux system, basically the GNU system with Linux added, is used on tens of millions of computers today.

Stallman has received the ACM Grace Hopper Award, a MacArthur Foundation fellowship, the Electronic Frontier Foundation's Pioneer award, the Takeda Award for Social/Economic Betterment, and the Premio Extremadura al Conocimiento Libre, as well as several doctorates honoris causa. He has been inducted into the Internet Hall of Fame.
Available Lectures
To request a single lecture/event, click on the desired lecture and complete the Request Lecture Form.
A Free Digital Society: What Makes Digital Inclusion Good Or Bad?

There are many threats to freedom in the digital society. They include massive surveillance, censorship, digital handcuffs, nonfree software that controls users, and the War on Sharing....

Computing, Freedom and Privacy

The way digital technology is developing, it threatens our freedom, within our computers and in the internet. What are the threats? What must we change?

Copyright vs. Community in the Age of Computer Networks

Copyright developed in the age of the printing press, and was designed to fit with the system of centralized copying imposed by the printing press. But the copyright system does not fit...

Free Software and Your Freedom

The Free Software Movement campaigns for computer users' freedom to cooperate and control their own computing. The Free Software Movement developed the GNU operating system, typically...

Should We Have More Surveillance Than The USSR?

Digital technology has enabled governments to impose surveillance that Stalin could only dream of, making it next to impossible to talk with a reporter undetected. This puts...

The Danger of Software Patents

Richard Stallman will explain how software patents obstruct software development. Software patents are patents that cover software ideas. They restrict the development of software, so that every...

The GNU General Public License

Richard Stallman wrote the first GNU General Public License in 1989, and version 3 which was completed in 2007. He will discuss the philosophy of the GNU GPL, the changes made in...

To request a tour with this speaker, please complete this online form.

If you are not requesting a tour, click on the desired lecture and complete the Request this Lecture form.

All requests will be sent to ACM headquarters for review.