Dr. Andrew S Tanenbaum
Based in Amsterdam, Netherlands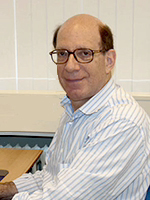 Bio:
Andrew S. Tanenbaum was born in New York City and raised in White Plains, NY. He has an S.B.from M.I.T. and a Ph.D. from the University of California at Berkeley. He is currently a Professor Emeritus of Computer Science at the Vrije Universiteit in Amsterdam.
Prof. Tanenbaum is the principal designer of three operating systems: TSS-11, Amoeba, and MINIX.In addition, Tanenbaum is the author or coauthor of five books, which together have been translated in more than 20 languages. All in all, there are over 175 editions,as shown on http://www.cs.vu.nl/~ast/book_covers.
Many of his Ph.D. students have gone on to greater glory in Academia and industry. He is very proud of them. In this respect he resembles a mother hen.
Tanenbaum has lectured on a variety of topics all over the world. He has been keynote speaker at 40 conferences and has given talks at over 100 universities and companies in 15 countries all over North America, Europe, Asia, and Australia.
He has been active in SIGOPS and was program chairman for the ACM SIGOPS European Workshop in 1996.
In May 2004, he started a political Website, www.electoral-vote.com. By October 2004 it was getting over 600,000 visits a day and was in the top 800 Websites in the entire world by traffic. It is still running.
In 2004, Tanenbaum became an Academy Professor of the Royal Netherlands Academy of Arts and Sciences. In 2008, he received a prestigious European Research Council Advanced Grant of 2.5 million euro to do research on reliable operating systems.
Tanenbaum is a Fellow of the ACM, a Fellow of the IEEE, and a member of the Royal Netherlands Academy of Arts and Sciences. In 1994 he was the recipient of the ACM Karl V. Karlstrom Outstanding Educator Award. In 1997 he won the ACM SIGCSE Award for Outstanding Contributions to Computer Science. In 2007 he won the IEEE James H. Mulligan, Jr., Education Medal. In 2008 he won the USENIX Lifetime Achievement Award and in 2015 he won the inaugural Eurosys Lifetime Achievement Award. He has also won numerous other awards, some of which are on his Wikipedia page. He has two honorary doctorates.
His home page is at http://www.cs.vu.nl/~ast.
Available Lectures
To request a single lecture/event, click on the desired lecture and complete the Request Lecture Form.
MINIX 3: A Reliable and Secure Operating System

Most computer users nowadays are nontechnical people who have a mental model of what they expect from a computer based on their experience with TV sets and stereos: you buy it, plug...

To request a tour with this speaker, please complete this online form.

If you are not requesting a tour, click on the desired lecture and complete the Request this Lecture form.

All requests will be sent to ACM headquarters for review.