Dr. Ranjith Tharayil
Based in Bangalore, India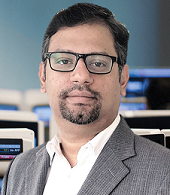 Bio:
Ranjith Tharayil is an accomplished innovator, software craftsman and an inspirational servant leader, with over a decade's experience in the software industry. He currently holds the position of Head of Technology Consulting, SolutionsIQ and specializes in strategizing and planning digital transformations. He has been an integral part of the R & D departments in large scale product companies like Samsung, Society General etc , and has authored 8 patents and several publications across different domains which includes Agile enginnering , software architecture, Human Computer Interaction, image processing , graphics , embedded systems etc.

Ranjith competed his Bachelors of engineering from Model engineering college, Cochin university of science and technology in computer science and engineering, and his Masters from Birla institute of science and technology . He is been associated with ACM as an organisational member from Samsung since 2007 and holds a professional membership. His core area of expertise includes Agile engineering, DevOps , software architecture and design . In his current job profile with SolutionsIQ he works as a trusted adviser to many large scale product companies helping them strategize there DevOps / continuous delivery journey. He is a hands on passionate programmer and during his free time spends time learning new programming languages and frame works. He is also a cartoonists, an avid blogger and well known public speaker.
Available Lectures
To request a single lecture/event, click on the desired lecture and complete the Request Lecture Form.
Adapting BDD for software maintenance projects using the dEep model.

Behaviour driven development has been a tried and tested technique to help us build the right product. In the recent years many teams who are in green field development projects are...

Automated Unit testing is a necessity but, TDD a necessity or luxury?

We all know that Test driven development, TDD is much better than test last approach, in test last we write unit tests after writing the required code. But somehow the industry still doesn't...

Change Vector Tracking in emergent design

Software design is a field that has always fascinated me and I have tried to be an obedient student trying to learn this art. Like any other design problem, software design is also a wicked...

The craft of business driven design

Even if we could produce completely bug-free software, that does not necessarily mean that the software design is of great quality, and if the software design does not reflect your business...

When and How to embrace Behaviour Driven Development?

Behaviour Driven Development (BDD) is a collaborative and disciplined technique to help us build the right product. In the last decade BDD has had her own bit of glory and criticism. Many...

To request a tour with this speaker, please complete this online form.

If you are not requesting a tour, click on the desired lecture and complete the Request this Lecture form.

All requests will be sent to ACM headquarters for review.