Dr. André Tricot
Based in Toulouse, France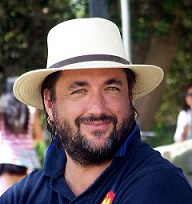 Bio:
André Tricot is Professor of psychology in the Work and Cognition Lab. (French national council for research – CNRS) and at the School of Education, University of Toulouse, France. He is the head of the research federal structure "Learning, Teaching, Training" in Toulouse (20 labs, 250 academics) and officer at School of Education. In 2014-15, he is also the head of the group that design grades 1, 2 and 3 new curricula for primary schools in France.
André was visiting Professor at the School of Education, University of New South Wales, Sydney in 2011-12. He obtained his PhD in Cognitive Psychology, University of Aix-Marseille, France in 1995. He collaborates with several universities and companies, mainly in the domains of human factors for aeronautics and education.
André's main research topics include learning and information seeking with digital documents, applied ergonomics, education, instructional design, documents use, human computer interaction, applied psychology, human factors and cognitive load theory. More accurately, André's work is mainly focused on two long-term research questions: (a) the study of human learning in digital environments. Following an ergonomic approach, his work aims to improve digital media to increase learning. This includes analysing the cognitive load involved in learning and the cognitive processing of the material. The fields of application are academic (from school to university) and industrial (e.g. training in the aerospace sector). (b) the study of information retrieval in digital environments. Aim is to understand the cognitive processes involved in this daily activity. Work is focused on the difficulties to seek, find, sort and evaluate information. Applications are academic (identification of new information skills that have to be taught) and industrial (design of information systems best suited to airplane pilots and technicians). Recently, André's work is oriented towards learning disorders, always with the same perspective: improving digital media to enhance learning.
André published 50 articles in peer-reviewed journals, 20 monographs, edited monographs and proceedings; he gave 200 invited lectures.
André has also been active in ACM, co-chair of IHM conference in 2010 (Luxemburg) and ECCE conference in 2013 (Toulouse).
Available Lectures
To request a single lecture/event, click on the desired lecture and complete the Request Lecture Form.
To request a tour with this speaker, please complete this online form.
If you are not requesting a tour, click on the desired lecture and complete the Request this Lecture form.
All requests will be sent to ACM headquarters for review.