Dr. Paolo Trunfio
Based in Rende, Italy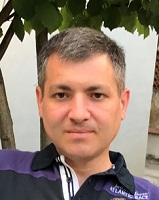 Bio:
Paolo Trunfio is an associate professor of computer engineering at DIMES Department, University of Calabria, Italy. He is also co-founder and managing director of DtoK Lab S.r.l., an Italian company that provides cloud solutions for Big Data analysis. He was visiting researcher at the Swedish Institute of Computer Science in Stockholm (2007) and a research collaborator at the Italian National Research Council (2001-2002). He has contributed to the organization of several scientific events, including: scientific coordinator of the Second NESUS Winter School & PhD Symposium 2017; local organizer of the 3rd COST 804 Training School on Energy Efficiency in Large Scale Distributed Systems 2013; PC vice chair of AINA 2013, "Distributed Database and Data Mining" track; PC local chair of EuroPar 2010, "Peer to Peer Computing" track. He has served in the program committee of more than 100 international conferences and workshops, including (for one or more editions): CCGrid, SMC, EuroPar, AINA, CBMS, CloudCom, HumanCom, ScalCom, GreenCom, TrustCom, CIT, HPCC, ISPA, ICA3PP, CLOSER, CSA, PDCS, CIIA, CODS, IDCS, ICSDM, CGC, IUCC. He is currently serving as associate editor of the IEEE Transactions on Cloud Computing and is a member of the editorial board of 8 scientific journals: Future Generation Computer Systems, Peer-to-Peer Networking and Applications, Journal of Big Data, International Journal of Web Science, International Journal of Cloud Computing, International Scholarly Research Notices, International Journal of Web Information Systems, and International Journal of Grid and Utility Computing. Dr. Trunfio is a member of the ACM since 2008.
Available Lectures
To request a single lecture/event, click on the desired lecture and complete the Request Lecture Form.
To request a tour with this speaker, please complete this online form.
If you are not requesting a tour, click on the desired lecture and complete the Request this Lecture form.
All requests will be sent to ACM headquarters for review.