Dr. Shriram K Vasudevan
Based in Coimbatore, India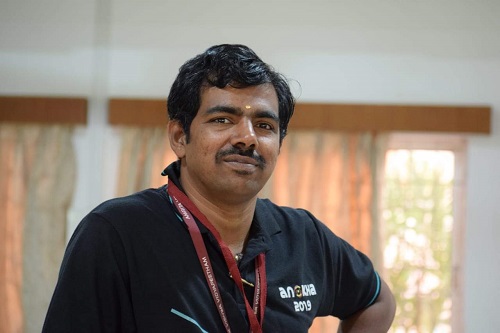 Bio:
• A blend of Industrial and Teaching experience for 14 years. Strongly passionate to take up challenging tasks. Authored / Co- Authored 45 books for reputed publishers across globe. Authored 122 research papers in revered international journals, 28 Papers in international/national conferences.
• Recognized/awarded by ACM, Proctor and Gamble Innovation Centre (India), Dinamalar, AWS (Amazon Web Services), Sabre Technologies, IEEE Compute,
Syndicate Bank, MHRD, Elsevier, Bounce, IncubateInd, Smart India Hackathon, Stop the bleed, Hackharvard (Harvard University), Accenture Digital (India), NEC (Nippon Electric Company, Japan), Thought Factory (Axis Bank Innovation Lab), Rakuten (Japan), Titan, Future Group, Institution of Engineers of India (IEI), Ministry of Food Processing Industries (MoFPI – Govt. of India), Intel, Microsoft, Wipro, Infosys, IBM India, SoS Ventures (USA), VIT University, Amrita University, Computer Society of India, TBI – TIDE, ICTACT, Times of India, Nehru Group of institutions, Texas Instruments, IBC Cambridge, Cisco, CII (Confederation of Indian Industries), Indian Air Force, DPSRU Innovation & Incubation foundation, ELGi Equipments (Coimbatore) etc. for my technical expertise. Listed in many famous biographical databases.
• Ph.D., and Masters in Embedded Systems.
• Winner of the HARVARD University – Hack Harvard Global 2019 – World Hack – 2019. Winner of 50 plus hackathons.
• Selected as Member – Intel IoT Advisory Board (International)
• Mentor for the Start-ups – GetVU, BGB Industries Pvt. ltd., and Loopus Weartech Pvt. Ltd.
• Selected as "Intel IoT Innovator" and inducted into "Intel Software Innovator" group. Awarded "Top Innovator" award – 2018, "Top Innovator – Innovator Summit 2019".
• Delivering Talks and Workshops in Top Notch Conferences and Summits.
• World Record Holder – With Sister Subashri Vasudevan (Only Sibling in the Globe to have authored 9 books together, Unique World Record Books). Reference Number – Registration No : 2016PP151
• Entry in Limca book of records for National Record – 2015.
• Entry in India Book of Records – National Record and Appreciation. – 2017.
• Interested in Testing (Performance Engineering, Embedded Systems, Internet of Things, Augmented Reality and Virtual Reality) and Teaching and Training.
• Reviewer in journals published by Elsevier, Wiley, Inderscience etc.
• Involved in coaching/mentoring students towards Entrepreneurship and Placements. Have mentored and coached students to success in many international/national hackathons.
Available Lectures
To request a single lecture/event, click on the desired lecture and complete the Request Lecture Form.
To request a tour with this speaker, please complete this online form.
If you are not requesting a tour, click on the desired lecture and complete the Request this Lecture form.
All requests will be sent to ACM headquarters for review.