Dr. Toby Walsh
Based in Kensington, NSW, Australia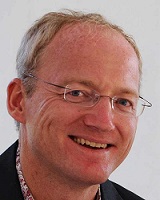 Bio:
Toby Walsh is a leading expert in artificial intelligence (AI). He was named by the Australian newspaper as a "rock star" of the digital revolution, and included in their list of the 100 most important digital innovators in Australia. Professor Walsh's research focuses on how computers can interact with humans to optimise decision-making for the common good. He is also a passionate advocate for limits to ensure AI is used to improve, not hurt, our lives.
In 2015, Professor Walsh helped launch an open letter calling for a ban on autonomous weapons or 'killer robots' that was signed by more than 20,000 AI researchers and high profile scientists, entrepreneurs and intellectuals, including Stephen Hawking, Noam Chomsky, Steve Wozniak, and Elon Musk. He has since been invited by Human Rights Watch to talk at the United Nations in both New York and Geneva. Professor Walsh has been elected a Fellow of the Australian Academy of Science, Fellow of the Association for the Advancement of AI, and Fellow of the European Association for AI. He has won the Humboldt Award and the NSW Premier's Prize for Engineering and ICT. He has written a popular book about AI,Android Dreams: The Past, Present and Future of AI". His twitter account, @TobyWalsh was voted one of the top ten to keep abreast of developments in AI. His blog, thefutureofai.blogspot.com attracts tens of thousands of readers every month.
Available Lectures
To request a single lecture/event, click on the desired lecture and complete the Request Lecture Form.
Allocation in Practice

How do we allocate scarce sources? How do we fairly allocate costs? These are two pressing challenges facing society today. I discuss three recent projects concerning resource and cost allocation....

Deceased Organ Matching

Thousands of people in Australia are waiting for a donated kidney. Matching donated organ to people on the waiting list is becoming increasingly challenging as road safety improves. In 1989, the...

Killer robots: the third revolution in warfare

The age of autonomous killing machines is closer than you think, and scientists and computer experts are deeply worried. Already autonomous weapons systems are under development, and some...

Many Fears About AI Are Wrong

Should you be worried about progress in Artificial Intelligence? Will Artificial Intelligence destroy jobs? Should we fear killer robots? Does Artificial Intelligence threaten our very...

What AI Can (and Can't) Do

AI is transforming our lives. What can it do? What will it do? What should we welcome or fear? It is clear that he next industrial revolution has started. However, there are many misconceptions...

Where the hard computational problems are?

Some computational problems are easy. We can sort numbers quickly for example. Other problems are hard. Scheduling jobs, routing trucks, these are all hard problems to solve. I will survey...

To request a tour with this speaker, please complete this online form.

If you are not requesting a tour, click on the desired lecture and complete the Request this Lecture form.

All requests will be sent to ACM headquarters for review.