Dr. Bebo White
Based in San Francisco, CA, United States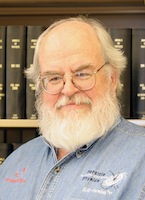 Bio:
Bebo White is a Departmental Associate (Emeritus) at the SLAC National Accelerator Laboratory, the basic energy science and high-energy physics laboratory operated by Stanford University. Prior to retirement he worked at SLAC as a Computational Physicist and Senior Computing Information Systems Analyst. He also holds faculty positions at TheUniversity of Hong Kong and The University of San Francisco.
While his initial responsibilities at SLAC were in computational physics, in recent years Professor White's work has been dominated by his involvement with World Wide Web technology. He first became involvedwith WWW development while on sabbatical at CERN in 1989 and was instrumental in establishing the first non-European Web site at SLAC in 1991.
Professor White has lectured and spoken internationally to academic and commercial audiences. He is the author of eight books and over one hundred journal/proceedings articles. In addition, he has been actively involved with the planning and execution of five major internationalconference series: The International World Wide Web Conference, The International Conference on Web Engineering, The IADIS International Conference on WWW/Internet, The International Conference on ICT inTeaching and Learning, and The Web Science Conference. His current research interests include The Internet of Things, Cryptocurrencies/Bitcoin and Blockchain, and The Future of User Interaction Design.
Additional information can be found at www.bebowhite.com.
Available Lectures
To request a single lecture/event, click on the desired lecture and complete the Request Lecture Form.
Cryptocurrencies and Blockchain (fiction, fallacy, fact, fun, and future)

Hardly a day goes by without a news story about Bitcoin or Ethereum, two of the best known and strongest cryptocurrency technologies. Opinions run the spectrum, from those who view...

Preparing for the Internet of Things

The Internet as we have known it for the past three+ decades is in the midst of a major and disruptive change. "The Internet of Things (IOT)" will bring...

Storages Are Not Forever

Like the well-known concern over diminishing fossil fuels, information technology is bringing its own unique future challenges. This lecture describes one of the most fundamental of these...

The Future of User Interaction Design

User interaction design is one of the most active and exciting research and development areas in computer science. As IT becomes more pervasive in every aspect of day-to-day life, interaction...

The Web: A Nostalgic View of the Past and Informed Hopes for the Future

This lecture draws upon the speaker's 30-year love affair with WWW technology – from his first exposure at CERN in 1989 and the first US Web site at SLAC in 1991 to his current...

To request a tour with this speaker, please complete this online form.

If you are not requesting a tour, click on the desired lecture and complete the Request this Lecture form.

All requests will be sent to ACM headquarters for review.