Professor John McCarthy
Based in Cork, Ireland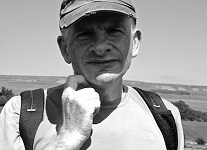 Bio:
John McCarthy is Professor of Applied Psychology at University College Cork, Ireland, where he leads the People and Technology Group (PAT). PAT is a collection of human-computer interaction (HCI) researchers engaged in experience-centred and participatory design of digital technology to understand and enhance people's lived experience and to ensure their voices are heard in the design of things that matter to them.
John has over 20 years experience working in HCI research with about 100 publications including three books with Peter Wright on theoretical and methodological foundations of experience-centred HCI Design: Technology as Experience (MIT Press, 2004) and Experience-centred design (Morgan Claypool, 2010), and most recently, Taking [A]Part (MIT Press, 2004). The most recent reflects on some design projects that they were involved with, to think about the politics and aesthetics of taking part in HCI design projects. His current research projects are concerned with further developing understanding and practice of participation in HCI. These projects focus on:
(i) The potential to develop dementia friendly research communities to do experienced centred design of technologies and services with people with dementia and their carers in order to understand and enhance their experience and wellbeing;
(ii) The emergence of digital communities and publics as expression of civic engagement in e.g. information, support and advocacy around dementia care and sustainable energy.
John is a member of ACM SIGCHI and Chapter Officer of the Irish SIGCHI Chapter. He has been a Theme Chair for the ACM DIS conference, General Co-Chair of Irish HCI, on Programme Committees for a number number of ACM SIGCHI workshops, Editorial Board of Interacting with Computers and a regular reviewer for SIGCHI conferences and HCI journals.
Available Lectures
To request a single lecture/event, click on the desired lecture and complete the Request Lecture Form.