Professor David Atienza
Based in Lausanne, Switzerland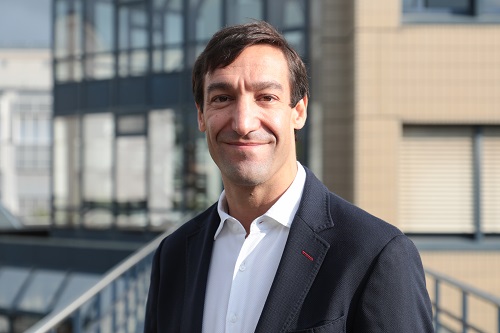 Bio:
David Atienza is a professor of Electrical and Computer Engineering, Head of the Embedded Systems Laboratory (ESL) and Scientific Director of the EcoCloud Sustainable Computing Center at EPFL, Switzerland. He received his MSc and Ph.D. degrees in computer science and engineering from Complutense University of Madrid (UCM), Spain, and IMEC, Belgium, in 2001 and 2005, respectively. His research interests include system-level design methodologies for high-performance multi-processor system-on-chip (MPSoC) and low-power Internet-of-Things (IoT) systems, including new 2-D/3-D thermal-aware design for MPSoCs and many-core servers, ultra-low power edge AI architectures for wireless body sensor nodes and smart embedded systems, HW/SW reconfigurable systems, dynamic memory optimizations, and network-on-chip design.
Dr. Atienza has co-authored more than 400 papers, two books, and 14 licensed patents in these previous areas. He has also received several recognitions and awards, among them the ACM/IEEE International Conference on Computer-Aided Design (ICCAD) 10-Year Retrospective Most Influential Paper Award in 2020 for his work on thermal modeling of 2D/3D MPSoC designs, ACM/IEEE Design Automation Conference (DAC) Under-40 Innovators Award in 2018 for his contribution to electronic design automation (EDA)and Embedded Systems, an ERC Consolidator Grant in 2016 on new liquid-cooling 3D computing systems, the IEEE CEDA Early Career Award in 2013, the ACM SIGDA Outstanding New Faculty Award in 2012, and a Faculty Award from Sun Labs at Oracle in 2011. He has also earned several best paper awards at top conferences in EDA, embedded and cyber-physical systems, and medical devices.
He serves as Senior Associate Editor of ACM Computing Surveys (CSUR), ACM Journal on Emerging Technologies in Computing Systems (JETC), and ACM Transactions on Embedded Computing Systems (TECS). He also has been the Editor-in-Chief of IEEE Trans. on CAD (T-CAD) since 2021. He was the Technical Program Chair of ACM/IEEE Design Automation and Test in Europe (DATE) 2015 and General Chair of ACM/IEEE DATE 2017. He served as and member of the Executive Committee of the ACM/SEMI/IEEE DAC for several years, and President of IEEE CEDA (2018-2019). He has been the Chair of the European Design Automation Association (EDAA) since 2021. He is a Fellow of ACM and IEEE.
Available Lectures
To request a single lecture/event, click on the desired lecture and complete the Request Lecture Form.