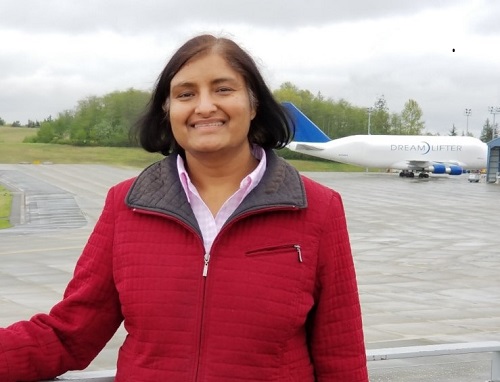 Bio:
Geeta Chauhan is AI Practice Head / CTO at SVSG, with 25+ yrs. of expertise in building resilient, anti-fragile, large scale distributed platforms with 1B+ users for startups and Fortune 500s. She has built and launched 17+ platforms and countless applications based on AI/Deep Learning, Cloud Computing, Blockchain, Internet of Things, Kubernetes and Mesos Clustering, Data pipelines for real-time and offline analytics, Software Defined Networking, Micro-services, Self-healing, Elastic Scaling.
She is sought after by Investment firms for Technology due diligence during venture funding, mergers and acquisitions. She has led over a dozen due diligence projects across US and Europe with a total of ~$200 Million investments.
She also helps companies with Digital Transformation and Lean Startup workshops for new production innovation at both startups, large enterprises and accelerators.
In the past, she was the CTO of Data Platforms at Alcatel-Lucent and led the Advanced Technology incubator for Genesys Labs. Having led a startup incubator inside a large enterprise and managing the innovation pipeline coming out of Bell Labs Research, she brings unique combination of expertise in building new products and engineering teams for Startups and large enterprises for both emerging technology disruption and scaling and building large complex systems.
She is passionate about adoption of AI for Good and mentors' startups @ CleanTech Open, largest accelerator for clean technologies.
She won the Women in IT, Silicon Valley, "CTO of the Year 2019" award. She is an ACM Distinguished Speaker and Thought Leader on topics ranging from AI, Deep Learning, Ethics in AI, Blockchain, IoT.
Available Lectures
To request a single lecture/event, click on the desired lecture and complete the Request Lecture Form.
AI @ Edge using Intel NCS

The new generation of hardware accelerators are enabling rich AI driven, Intelligent IoT solutions @ the edge.




The talk will showcase how to use...

Best Practices for On-Demand HPC

Traditionally HPC has been popular in Scientific domains, but not in most other Enterprises. With the advent of on-demand-HPC in cloud and growing adoption of Deep Learning, HPC should now...

Decentralized AI: Convergence of Blockchain and AI

As we move into a world where User's will own their own data, and companies will use "Ethically Sourced Data", there will be a rampant need for Decentralized AI. And,...

Deep Learning for Medical Imaging

The talk covers use cases, special challenges and solutions for Deep Learning for Medical Image Analysis. You will learn about:




- Use cases for Deep...

Distributed Deep Learning Optimizations

This talk will cover how to build and deploy distributed deep learning models at scale. You will learn how to parallelize your models, and techniques for optimizing your cluster for faster...

To request a tour with this speaker, please complete this online form.

If you are not requesting a tour, click on the desired lecture and complete the Request this Lecture form.

All requests will be sent to ACM headquarters for review.