Dr. Eunice R Sari
Based in Perth, Australia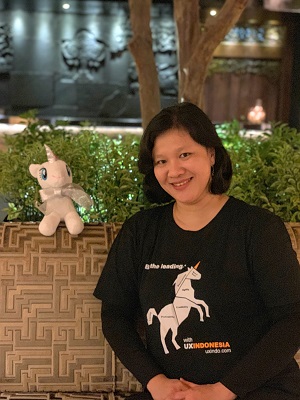 Bio:
Dr. Eunice Sari is a User and Customer Experience Expert and Service Designer with more than 18+ years of global experience working in academia and industries. She has pioneered many forward-thinking and innovative projects to affect lives and improve the bottom line of businesses in various vertical industries in the USA, Europe, Australia, and Asia.
She co-founded and chaired the Indonesia ACM SIGCHI Chapter (Association Computing Machinery Special Interest Group on Computer-Human Interaction, a.k.a CHI UX Indonesia), and later the Association of Digital Interaction Indonesia – Perkumpulan Interaksi Digital Indonesia (PIDI). She was also the co-founder of ACM SIGCHI Southeast Asia community, the Southeast Asia Liaison for ACM SIGCHI Asia Development Committee, the Expert Member of the International Federation for Information Processing (IFIP) TC 13 – Human-Computer Interaction (HCI) for Indonesia, and the Western Australia Representative for the Human Factors Ergonomic Association Computer-Human Interaction Special Interest Group (HFESA CHISIG). With her roles, she has facilitated the collaboration between academia and industry in the fields of Education, Technology, HCI, and UX.
Eunice was the ACM SIGCHI VP for Chapters until June 2021, where she oversaw and promoted the SIGCHI Chapters program and the relationship between SIGCHI and its Chapters. SIGCHI Chapters are ACM Professional Chapters or ACM Student Chapters that have chosen to affiliate themselves with SIGCHI. She also served as the liaison between the Executive Committee and the ACM Chapter support staff, overseeing any committees organized to facilitate chapter activities. She provided information and assistance to SIGCHI members considering forming chapters, made recommendations to the Executive Committee concerning its recommendations to ACM on the establishment, operation, and dissolution of SIGCHI-affiliated Chapters reported the Chapter activities to Executive Committee as well as made recommendations to the President and the Executive Committee on policies and proposals relating to cooperating society agreements with external organizations.
Eunice was the first Asian female Google Developer Expert in Product Design and Strategy and currently is the Product expert mentor for the Google Startups program. She has helped many international startups from the USA, Australia, Europe, Latin America, Africa, and Asia through Google Launchpad and Accelerator Programs to improve their business.
She is also a Google Certified Design Sprint Master that certifies her to train and run Google Design Sprints across the globe and the first Asian female Google Development Expert in Product Design and Strategy.
With her seasoned international experience in industry and academia, Eunice is passionate about helping international business clients to design experience strategies and roadmaps that exceed their expectations.
Available Lectures
To request a single lecture/event, click on the desired lecture and complete the Request Lecture Form.
Agile Usability Testing

Usability is a critical part of a product design and development process. This process should be done iteratively without blocking the existing process. The art of doing practical usability in the...

Customer Journey Mapping

Customer Journey Mapping is a hands-on workshop to get the opportunity to develop your capabilities in customer journey mapping capabilities. The customer journey is the complete sum of...

Design Sprint for Digital Transformation

Organizations are getting good in designing and building beautiful products. In many product development process, great forms and functionalities are often considered as the main factors...

Google Material Design

In this talk, you will learn Google Material Design as a Design System, how to use it to design an awesome experience in a digital products and services. By the end of the talk, you will be...

Introduction to UX Research

UX Research determines the success and failure of the product and service we design and develop. The value of UX Research is influenced by the planning, execution, analysis and...

Lean UX in Digital Transformation

In the Digital Transformation Era, products and services evolve so quickly. The tendency to move fast without considering the target users is imminent. In this hands-on workshop, we will learn...

Measuring UX

Measuring UX is a training to develop the ability to measure UX's success in achieving business goals.

In this workshop, you will learn how to...

UX Writing

Being able to communicate well to users, internal and external stakeholders is critical to ensure the success of a UX project. This talk will give an overview on how to craft human-centred writing...

To request a tour with this speaker, please complete this online form.

If you are not requesting a tour, click on the desired lecture and complete the Request this Lecture form.

All requests will be sent to ACM headquarters for review.